Ho Chi Minh City's economy maintains its growth pace in the first seven months this year, said director of the Department of Planning and Investment Thai Van Re at a meeting hosted on July 24 by the city People's Committee.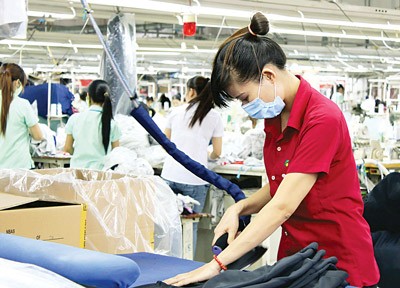 Taiwan-invested Kim Hong Garment Company in Linh Trung Export Processing Zone (Photo: SGGP)
Total retail sales of goods and service revenue were estimated to reach VND55,138 billion (US$2.60 billion) in July, 2.7 percent higher than the previous month and 14.2 percent year on year increase.
Export turnover hit US$16,399 million in seven months, up 3.5 percent over the same period last year. Import turnover was recorded at US$14,141 million, down 8 percent.
Industrial production index increased 6.2 percent. Four key industries including manufacturing mechanics, electronics, rubber and plastic, and food processing hiked 7.2 percent.
The city authorities have overcome lot of difficulties to avert production stagnation, resulting in the industrial index increase, said chairman of the People's Committee Le Hoang Quan.
Although petrol price increase in June and July have raised transport fee up and prices of several commodities as well but July Consumer Price Index was up lightly 0.12 percent over the last month, he said.
HCMC will continue to control prices and curb inflation from now til year-end, he added.
Foreign investors pouring to the city saw 316,778 in July, up 10.5 percent compared to a year ago.
HCMC budget revenue arrived at VND148,541 billion in seven months, up 14.27 percent year on year, reported director of the Department of Finance Dao Thi Huong Lan.
Of these, domestic revenues occupied VND81,892 billion, an increase of 17.18 percent. Exports and imports yielded about VND48,500 billion, up nearly 16 percent.