More than 3,000 train tickets will be distributed to workers in industrial and export processing zones by the Ho Chi Minh City Labor Union, Deputy Chairman of the city People's Committee Truong Lam Danh said on Monday.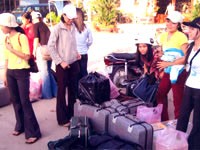 Workers were eager to go home for Tet holiday.(Photo: NLD)
According to a survey of district labor unions and companies, many workers are facing the prospect of remaining in HCMC for Lunar New Year, unable to afford the traditional journey home to be reunited with their loved ones because of the global economic crisis.
Binh Tan District has 4,017 workers (1,400 workers alone at Pou Yuen Company) whose hometowns have been severely affected by recent floods, making a trip home very difficult, Binh Tan District Labor Union said.
The labor unions of districts 12 and 5 have supplied the Ho Chi Minh City Labor Union a list of 109 workers who have lost their jobs, are pregnant or are in a dire financial situation, and asked for free train tickets for these workers.
The city Labor Union is seeking assistance from employers to provide 70 percent to 100 percent of the cost of the train tickets.
So far, 12 companies in Binh Tan District have agreed to fully fund the train tickets to their workers for the Tet holiday.