People's Committee in Ho Chi Minh City yesterday held a meeting in 23.9 Park to launch action month for food safety with the participation of Deputy Health Minister Nguyen Thanh Long and representatives from related agencies.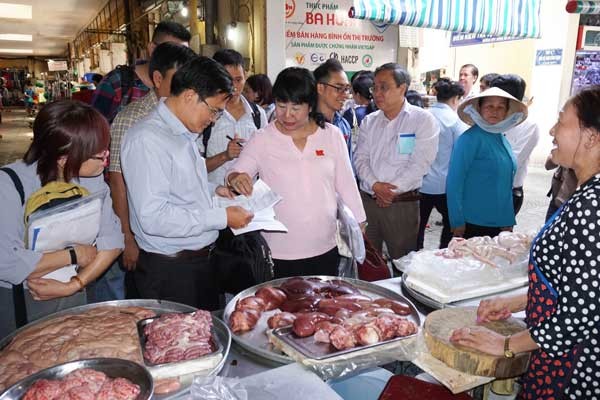 Inspectors pay visits to Ben Thanh Market in District 1 for checking food safety (Photo: SGGP)

The action month themed Production, Trade and Consumption of fresh food safely as well as control on alcohol to prevent poisoning.

City Deputy Chairwoman Nguyen Thi Thu said that consumers need safe food which the government and the Party and the society took heed to. For the past years, the city administration and the entire machinery of state asserted that food safety is attached to the goal to build a smart and modern city.

The city has set up safe food chains and coordinate with province governments to tighten control on from breeding to consumption. Additionally, the city built giant slaughterhouses and expanded the model of safe vegetable growing. The Prime Minister has lately given the green light to establishing a management board on food safety.

However, Ms. Thu pointed out there has been existing problems in managing the food safety. In the next time, the management board in coordination with related agencies to monitor banned chemicals and ethanol in making liquors and in husbandry and reduce pesticide residues in veggies, meat and aquatic products.
Furthermore, the management board will increase people's awareness of food safety and pay more visits to manufacturing places especially slaughterhouses, processing and providers of vegetables, fish and agricultural produce into the city.

Head of the Management Board Pham Khanh Phong Lan said that the board will launch an information campaign to local governments, organizations, leaders of exporter-importers, restaurants, wholesale and retail markets, supermarkets, tourism parks, industrial and export processing zones and consumers.

Inter-department supervision teams in 24 districts will be set up to pay unscheduled visits to food manufacturers.