Chairman of Vietnam Fatherland Front in HCMC To Thi Bich Chau said that HCMC authorities and residents have made medium and long term efforts to protect the environment. However, surveys by the city People's Council showed that the city has been polluted in most environmental fields comprising surface water, underground water, wastewater, air and noise with many problems in urban environment, residential area and solid waste management.

That required the city's government and agencies, the community, households and individuals to join hands in waste treatment, she said.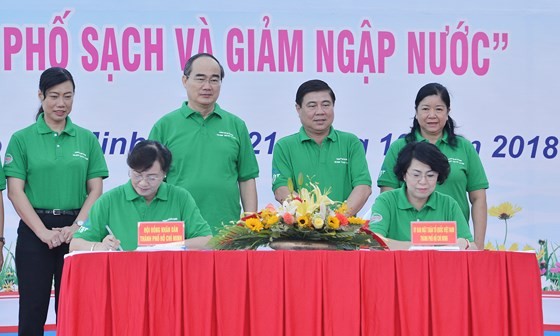 City leaders witnessed the cooperation signing ceremony between HCMC People's Council and Fatherland Front Committee in environmental protection (Photo: SGGP)
HCMC Party Committee leader Nguyen Thien Nhan said that depositing trash in the right places would contribute in preventing garbage from choking sewers and canals and reducing flooding during heavy rains.
Hence, the effective and important solution for a clean city is that each person should not litter indiscriminately, clean up their houses and canals behind their houses.
Chairman of HCMC People's Committee Nguyen Thanh Phong said that the city for the last past has implemented many projects to improve the environment and reduce pollution such as increasing tree plantation, functioning major environmental improvement projects, upgrading infrastructure in existing residential areas, constructing new urban areas with synchronous and environmentally friendly infrastructure and building waste treatment sites. These efforts have gradually improved the city's environmental quality.
However environmental pollution has been regular and alarming in residential areas, construction sites, roads and public places because of the low awareness of a group of residents. Littering is still a social problem. Agencies and districts have not coordinated together synchronously in a timely in environmental protection.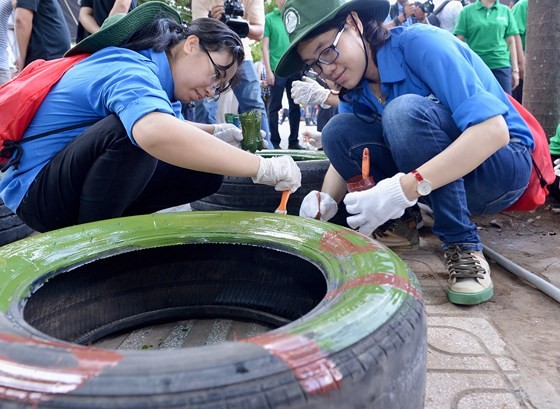 Activists paint a waste an auto tire for children playground (Photo: SGGP)
Therefore, Mr. Phong proposed party committees and city authorities to intensify guidance and improve management efficiency in environmental protection. Vietnam Fatherland Front Committee and political social organizations should speed up propaganda, the Department of Natural Resources and Environment should work with district people's committees to review garbage collection spots to have adjustments suitable with local conditions, seriously carry out plans to renew garbage trucks and increase public rubbish bins.
People's committees of 24 districts should rearrange private garbage collection units and mobilize them to change into businesses or cooperatives, required wards and communes to tackle black spots of garbage.
On behalf of HCMC authorities, Chairman Nguyen Thanh Phong called on residents to join hands in protecting the environment with practical things such as not littering, not using nylon bags, taking 15 minutes a day to clean up the area in front of their houses and mobilizing neighbors to protect the environment.
The standing committee of HCMC People's Council and the standing board of Vietnam Fatherland Front signed a coordination plan in urban environmental protection and waste management in the city.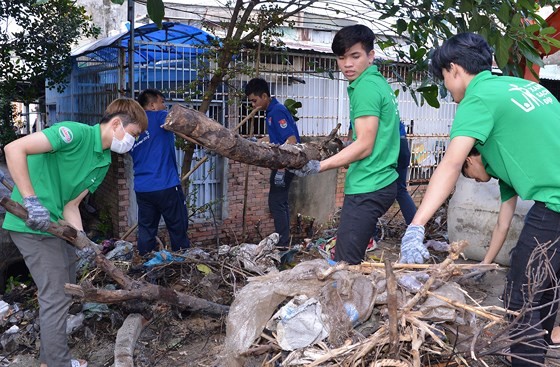 Young people clean up the environment in Binh Thanh district (Photo: SGGP)
Right after the launching ceremony, city leaders together with young activists and waste collectors cleaned up city's canals, built playgrounds for kids with recycled materials and increased garbage bins for households in Ward 12, Binh Thanh.