Saigon Cooperative Mechanical Corporation (SAMCO), a state-owned enterprise, has just provided 23 environmentally- friendly bus fleets to the Cooperative 19.5.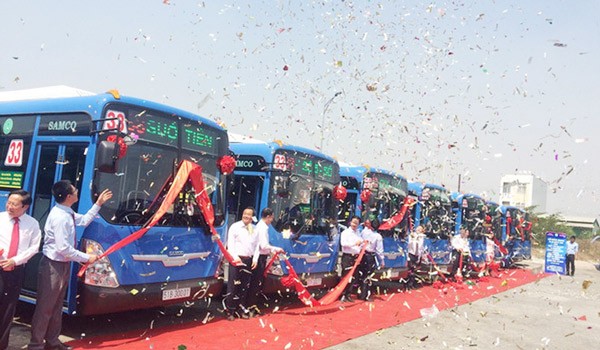 (Photo: SGGP)
These compressed natural fas (CNG)-fuelled bus fleets are made by group of engineers and workers of SAMCO. The CNG is methane stored at high pressure, which is used as an alternative fuel for gasoline, diesel, or propane. CNG combustion produces fewer undesirable gases than those mentioned above.

These buses run on CNG to its fleet so they are suitable for public transport in such metropolises like Ho Chi Minh City. With strong engines, these busses are also designed with two automated doors having warning parts for passengers' safety.

Total VND63 billion (US$2.8 million) was spent on these buses each worth VND2.75 billion coming from investments from its members and bank loans. These buses will shuttle between An Suong Station in Hoc Mon District – Suoi Tien Park - the Vietnam National University-Ho Chi Minh City in Thu Duc District to replace its old counterparts which use diesel.

So far total 52 CNG-fuelled buses run on the above-mentioned route reaching the target of environmentally-friendly buses.

The SAMCO is a state-owned enterprise, with its main operations involving the production of transport mechanical products and the provision of high-quality transport services.