At a meeting on Friday with the developers of the project for an urban area in Hiep Phuoc Port, Nha Be district, HCM City Party Secretary Le Thanh Hai said higher compensation rates would be given to residents displaced by the project. He also gave instructions to deal with some other related issues.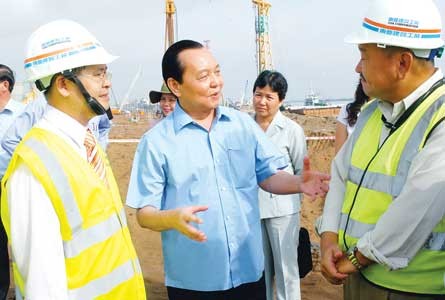 City Party Secretary Le Thanh Hai meets contractors at Hiep Phuoc Port.

Currently, one of the big problems faced by the project developers –  Tan Thuan Industrial Development Company and the authorities of Nha Be District –  is compensation and resettlement for displaced locals, said Than Trong Trieu, Deputy Chairman of Nha Be People's Committee.
The project is developed in a 1,238-ha area in Hiep Phuoc commune, which is near the Phu My Hung urban zone, where house and land prices frequently fluctuate, Trieu said. Therefore, the key issue is how much compensation rates should be so that displaced residents can afford new houses, he said.
After discussions, the meeting agreed that compensation rates would be raised in accordance with Decree No. 84 by the government.  Mr. Hai said he would propose the People's Committee to grant a loan of VND2,000 billion to Tan Thuan Industrial Development Company to cover spending on compensation and site clearance.
Regarding the building of an urban area in Hiep Phuoc Port, Mr. Hai said the city's policy is to expand the port area southward and towards the sea. The project developers should take proper measures to raise the port's capacity to 250-300 million of tons of goods per year instead of 200 million of tons as planned, he directed.
Currently, the project developers are focusing on the dredging of Soai Rap estuary to accommodate big cargo ships with load of up to 15,000 tons.
Dubai World group, the world's second biggest developer of seaports, has decided to invest into expanding Soai Rap to improve Hiep Phuoc port's capacity, said Mr. Diep Dung, the vice general director of Tan Thuan Industrial Development Company. The group also wished to take part in the building of an urban area in Hiep Phuoc port, he said. 
Therefore, the city's determination in developing the Hiep Phuoc port area will have positive effects on the negotiation between local investors and the Dubai World, Mr. Hai said
As regards traffic systems in Hiep Phuoc, Mr. Tran Quang Phuong, director of the city's Department of Transport and Communication, said the planning of traffic works in this area are being prepared and will be complete by the end of 2010.