The Ho Chi Minh City economy grew strongly in January with many sectors achieving high growth rates, but it should not breed complacency, People's Committee chairman Le Hoang Quan said.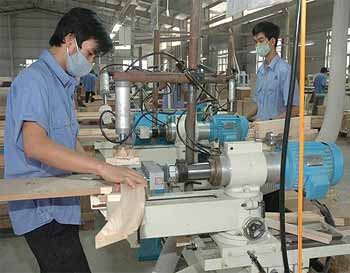 Workers processing woodwork for export at Savimex Co. in HCMC. The city People's Commitee chairman Le Hoang Quan has called on government agencies and businesses for efforts to boost economic growth this year.(Photo: NLD)
Speaking at a meeting held recently to review the city's social and economic performance during the month, discuss its annual budget, and find ways to boost the economy, he called for greater efforts to create a development momentum.
He urged government agencies, district authorities, and businesses to continue their efforts to achieve the targets set for this year as well as the 2006-10 period.
He told the agencies to tighten control over the use of funds, give financial priority to projects that are expected to be completed this year, and closely monitor the progress and quality of construction works.
State-owned enterprises and corporations should focus on the domestic market to boost their sales and meet consumers' increasingly diverse demand, he said.
At the meeting delegates also discussed preparations for Tet ( the lunar New Year) that falls on February 14 this year. Most of the businesses taking part in the city's program to stabilize the prices of goods during the festival have announced their prices, the Department of Industry and Trade reported.
It added that 98 percent of the VND422 billion (US$22.8 million) earmarked by the city to support them has been disbursed.
The HCMC Union of Cooperatives said it has worked to ensure adequate supply of essential goods like rice, cooking oil, meat, and processed foods during Tet.
More than VND200 billion (US$10.8 million) would be distributed to 24,000 beneficiaries of the city's social welfare policies, the Department of Labor, War Invalids and Social Affairs said.