Secretary of the HCMC Party Committee Dinh La Thang on December 13 worked with the city People's Committee, districts and agencies on measures to reduce traffic jam in the city.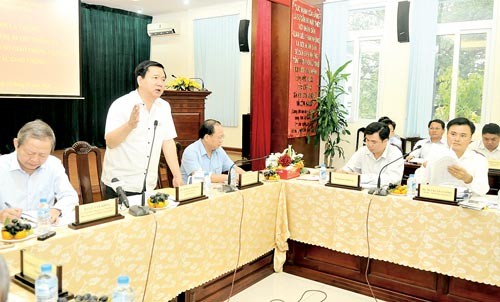 Secretary of the HCMC Party Committee Dinh La Thang makes a statement at a meeting on traffic jam on December 13 (Photo: SGGP)
According to director of the Department of Transport Bui Xuan Cuong, there were 27 traffic jams during peak hours in the first 11 months this year and most of them occurred in streets surrounding Tan Son Nhat International Airport and Cat Lai Seaport in District 2.
Measures in urgent need of implementation next year comprise capital mobilization for bus rapid transit system, online bus ticket sale project and development of waterway transport types. Of these, investment will focus on two waterway public transport routes, stations and transit points to connect buses with other means of transport as per plan.
Other walking streets will be opened in downtown HCMC besides Nguyen Hue street, a project will be launched to charge toll fee on automobiles in the center of the city, authorized agencies will study some measures to ban vehicles from travelling in some downtown streets during some certain hours on some week days and small smart parking lots accommodating 10-20 vehicles will be developed along main streets.
Secretary Dinh La Thang judged that the number of traffic jam reported by the Department of Transport was far lower than reality, asking the department to exactly estimate the real situation to define reasons and find conformable solutions.
Measures with little costs should be implemented first such as tackling the illegal operation of illegal coaches and stations, he proposed. Mr. Thang asked Saigon Mechanism and Transport Corporation (Samco) to complete the evacuation of Mien Dong (Eastern) and Mien Tay (Western) Coach Stations out from city center areas in 2017.
Permanent deputy secretary of the city Party Committee Tat Thanh Cang said that agencies and districts had not paid appropriate attention to solving traffic jam. He prompted to make clear those responsible for that and handle relevant organizations and individuals for not completing their assigned tasks.
He urged the Department of Transport to conduct a comprehensive reform in management, investment and transport models and send results to the city Party Committee before the first quarter next year.
Districts should send specific reports on public land area for traffic infrastructure in their districts. In the upcoming time, the city will supervise the Department of Natural Resources and Environment over its land lease activities, Mr. Cang added.
In addition, he prompted the Department of Transport to speed up procedures to develop traffic infrastructure and set up standards on road works. Samco was required to review the public land fund for traffic infrastructure and bring out how many areas have been used for wrong purposes.
Making a statement to conclude the meeting, Secretary Dinh La Thang asked all districts and agencies must make their own efforts to reduce the ongoing rampant traffic jam, analyze the efficiency of solutions that have been carried out and clarify responsibilities of leaders in implementing their assigned tasks.
Function and duty assignment must be clear for each agency and individual to deal with traffic jam. Authorized agencies should review planning documents related to urban infrastructures and map out a plan to develop railway routes leading to seaports. Short and long term measures should be reviewed to set up timelines for traffic projects.
The city has in writing proposed the Ministry of Transport to adjust flight time and cargo pickup time at Tan Son Nhat Airport and Cat Lai Seaport to ease traffic jam in these areas.
He prompted relevant agencies to build a smart traffic management center for downtown areas. Secretaries and chairmen of districts will be held responsible for roadbed and pavement encroachment if they have registered to tackle the issue.