On May 29, leaders of Ho Chi Minh City held a regular meeting to review the first five months of the year, the socio-economic situation and ways to resolve a number of issues aimed at clearing economic barriers in Vietnam's biggest economic hub.
Le Hoang Quan, chairman of the People's Committee presided over the meeting which was meant for tackling hot issues such as difficulties in production, high interest rates and increase in the number of traffic accidents.
The meeting also discussed ways to create a mechanism to mobilise capital from various sources and under different modes, and to support small and medium enterprises.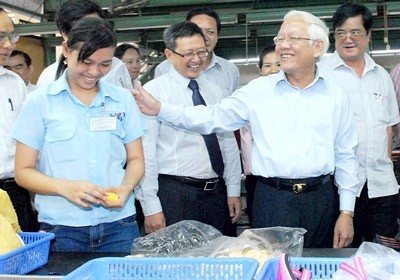 City's Chairman Le Hoang Quan visits workers at a shoes factory of Biti's on April 20, 2012. HCMC leaders are discussing ways to boost economy (Photo: SGGP)
Ms. Mai Thi Thu Thuy, secretary of Party section of Central Industrial Enterprises located in HCMC, said that in the first five months of 2012, due to low consumer spending, inventory in stores went up by 29 per cent! Therefore, production also dropped.
She recommended that enterprises need to solicit Government assistance in developing markets and introducing their products to regional and international markets, as well as raising management ability and competitiveness.
Nguyen Van Truc, director-general of the General Agriculture Company of Saigon, stressed on the necessity to manage loans of the Government and public. For instance, though agricultural enterprises benefit by priority interest rates of 14 per cent per year, the durability of loans is often from 3 to 6 months.
"That period is too short", he remarked, "it is necessary to maintain supportive financial policies for small and medium-sized enterprises, to help them weather the difficult period, especially those in the processing and export production industries."
Ms Nguyen Thi Hien Luong, vice director of the Department of Transport of HCMC reported that in the first five months of 2012, HCMC saw a month-on-month increase in traffic accidents, with 268 reported cases, 240 fatalities and 120 people wounded in road accidents.
Major Phan Thanh Minh, vice director of the Department of Public Security in HCMC explained that the transport sector must take synchronized measures to reduce traffic accidents and congestion.
Besides bad transport infrastructure and poor planning management, Major Minh attributed traffic accidents and congestion to the side lanes that had proved impractical: "In HCMC the numbers of motorbikes are too many, but lanes for motorbikes in most of the roads are too narrow" said Minh.
Le Hoang Quan, chairman of the HCMC People's Committee recommended to the Party section of Central Industrial Enterprises to study and draw up a master plan for the restructuring of businesses. HCMC should launch a package assistance programme to hand financial support and help businesses find markets for their products.
The City authorities should create more chances for enterprises to access capital resources, prevent the increase of bad debts and focus on the development of zones and major sectors and products.
The State Banks must plan to continue lowering interest rates and boosting consumption to reduce business inventory, Chairman Quan said.
He promised that the HCMC People's committee would ensure the success of this year's socio-economic development plan; boost production and trading activities; and raise income from export-import activities.