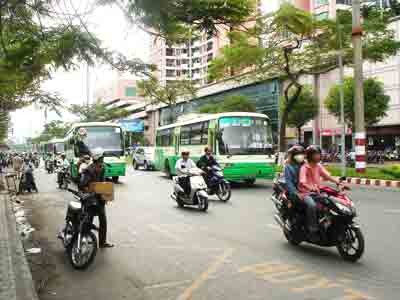 There is no special roads for buses (Photo: N. Lam)
A conference was held in Ho Chi Minh City on April 28 to discuss ways to encourage and motivate people to use the bus as a means of transportation.
Experts and government leaders talked about the many measures they could adopt, including carrying out a survey of jobs of bus passengers, improving the pavements, encouraging the habit of using the bus to commute and making special roads for buses.
Out of the various methods proposed, the government will consider the ones that are the most feasible.
Nguyen Thanh Tai, Deputy Chairman of HCM city Peoples' Committee, Tran Quang Phuong, Director of the HCMC Department of Transport, Nguyen Hoai Nam, Deputy Chief of the Architecture and Urban Planning Department of HCMC, Nguyen Trong Hoa, President of the HCMC Institute for Development Studies and Tran The Tuyen, Editor–in-chief of Sai Gon Giai Phong newspaper attended the seminar.
The Department of Transport said that the bus services were targeted to meet 14 percent of the demand of commuters during the 2010-2015 phase and for catering to 3.06 million people per day and 1.1 billion visitors each year.