Ho Chi Minh City leaders and district authorities on January 12 signed a commitment to implement measures to ensure better traffic safety on city roads and lower accident toll rates by 10 percent in 2012.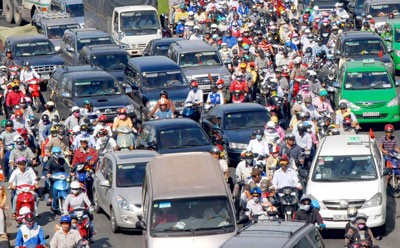 Traffic congestion during peak hours in Ho Chi Minh City (Photo:SGGP)
The commitment was signed in the presence of Le Hoang Quan, Chairman of the HCMC People's Committee, at a meeting to implement plans for "2012 Traffic Safety Year".
Le Toan, deputy director of the City's Department of Transport stressed that to ensure traffic safety, the city will focus on removing 24 traffic accident 'black spots' and 27 traffic gridlock zones along 23 roads across the city and inflict harsher penalties on drunk drivers.
Toan said that the Department of Transport will liaise with related agencies to raise awareness in motorbike drivers of traffic laws, levy heavier fines on offenders, clear roadsides and pavements as well as speed up obstructing infrastructure construction projects. Also on the cards would be to increase the number of traffic wardens in the most vulnerable traffic spots in the city.
The transport department also proposes to clear unlicensed parking lots which have sprung up across the City; in front of crowded markets, hospitals and busy downtown areas-causing much inconvenience to pedestrians. Local authorities have been asked to penalize haphazardly organized parking lots on pavements.
Managers of foreign centres, schools and trade centres will have to better manage these places or else face strict penalties or even lose their business license.
At the meeting, all participants from districts and various departments pledged to implement the said measures and help reduce traffic accidents by 10 percent this year.
At the meeting, Quan, Chairman of the HCMC People's Committee said that plans to fight the traffic gridlock was among the six key programs for the city, and require a steely determination to implement.
He said police, Department of Transport and related agencies must sign the commitment to complete their duties which will be publicized on the media so that residents understand the implications and also help in supervising and maintaining more order.
Quan said that districts and departments need to make plans and set time to implement the commitment. He stressed that responsible agencies will be held accountable if they fail to fulfill their duties.
Within 11 months of 2011, 890 traffic accidents in HCMC claimed 764 lives and injured 425 others. 370 traffic accidents took place on traffic accident 'black spots', killing 328 people.
Earlier, the Government had designated 2012 as the Year for Traffic Safety to focus on establishing traffic order and discipline across the country and fight traffic congestion in particular in Hanoi and Ho Chi Minh City.
Government has asked ministries and authorities at all levels to help raise public awareness of transport safety, adding that road management and inspections should be improved and stricter penalties imposed on traffic law violators.