Ho Chi Minh City Party and People Committees' leaders urged the Transport Department and relevant districts to speed up traffic projects to reduce traffic jam in the eastern area of the city on January 5.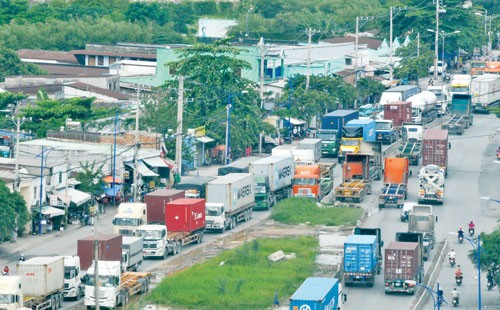 Trucks in Nguyen Thi Dinh street near My Thuy roundabout, District 2, HCMC (Photo: SGGP)
They were speaking at a meeting between city party chief Dinh La Thang and the People's Committee, Transport Department, districts and Sai Gon Newport Company, discussing traffic safety and order in the area. 
According to director of the Transport Department Bui Xuan Cuong, despite many efforts to reduce traffic jam, the situation has regularly and long occurred in streets near Cat Lai seaport such as Hanoi Highway, Mai Chi Tho, Dong Van Cong, Nguyen Thi Dinh and Vo Chi Cong. My Thuy roundabout where trucks have to travel through to reach Cat Lai seaport has been badly congested during peak hours. 
The efforts which the Department of Transport has implemented include increase of human resource to regulate traffic in the streets and the seaport and hasten procedures of getting in and out the port and strictly handle parking violations. 
The agency proposed the city People's Committee to approve urgent implementation of roads directly leading to Cat Lai port, choose and appoint investors from the start of PPP (public private partnership) projects with huge capital and permit investors to deduct land use fee for land pieces where they have not fulfilled tax obligations. 
Sai Gon Newport Company suggested speeding up the progress of roads linking the port up to Vo Chi Cong street and connecting Vo Chi Cong street to Hanoi Highway. 
Authorized agencies should immediately clear illegal truck parking sites in Le Phung Hieu street and crack down on parking violations, it said. 
Deputy Chairman of the city People's Committee Le Van Khoa agreed with suggestions by the department and corporation to reduce traffic jam in the eastern area. An inter-agency mission should be established to solve the issue. 
About the implementation of projects, permanent deputy secretary of the city Party Committee Tat Thanh Cang urged the transport department to upgrade lanes for container trucks in Dong Van Cong and Vo Chi Cong streets, open to traffic the route from Rach Chiec 2 Bridge to Hanoi Highway and immediately entrust businesses to build projects that they are possible to do now. 
Construction time should reduce to two years instead of lengthening to 5-10 years. Traffic organization along Hanoi Highway should not cross the highway but be in arc shape, he added. 
He required the department to immediately remedy technical problems at automatic toll stations. 
Concluding the meeting, secretary of the city Party Committee Dinh La Thang asked the committee's Inspection Commission to see how relevant agencies and cadres have conducted their duties and the committee's instructions to tackle traffic jam. 
The Propaganda and Education Commission of the committee should focus on raising citizens' awareness of traffic law. 
He emphasized the need of clarifying the roles of districts and agency leaders who have been tasked to solve traffic jam and assign specific works to organizations and individuals to focus on tackling the congestion at 37 spots citywide. 
Agencies should check urban and traffic plans to ensure they have accorded seaport, airport and waterway infrastructures. 
He asked the Department of Transport to urgently review traffic infrastructure plans in the eastern area as well as the entire city. The agency's director should monthly report to the Party Committee on how illegal parking sites of container trucks have been solved and results. 
The city People's Committee should decentralize traffic jam settlement to districts, he added.