On December 27, Le Thanh Hai, Secretary of the HCMC Party Committee and Le Hoang Quan, Chairman of the City People's Committee warmly welcomed General Secretary and Chairman of the Lao PDR Choummaly Sayasone and his wife to Vietnam.
Mr. Hai expressed appreciation at Chairman Sayasone's visit, which marks the success of Vietnam-Laos Friendship and Solidarity Year 2012.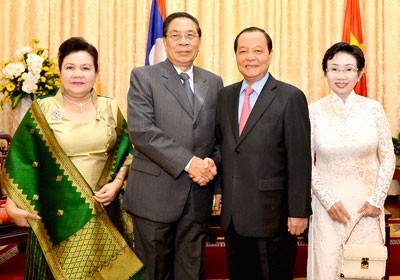 Ho Chi Minh City Party Secretary Le Thanh Hai (2nd R) meets with President of the Lao PDR Choummaly Sayasone (Photo: Viet Dung SGGP)
He also congratulated Laos on its marked achievements in implementing Party resolutions on socio-economic development, its recent admission to the World Trade Organization (WTO), and the successful organization of the 9th Asia-Europe Meeting (ASEM).
He thanked Chairman Sayasone and other Lao leaders for facilitating cooperation between Ho Chi Minh City and Lao localities.
HCMC will do its utmost to increase cooperation with its Lao counterparts, contributing to strengthening comprehensive cooperation between the two countries, said Secretary Hai.
For his part, Chairman Sayasone acknowledged the City's efforts in organizing activities during the Vietnam-Laos Friendship and Solidarity Year to help the two countries better understand the Laos-Vietnam special friendship.
He highly valued the efficient cooperation between HCMC and Lao localities, especially in receiving and supporting Lao students in their studies in the City.
The Party and Laos will do their utmost to maintain and cement the close bond with the Party and Vietnam, Mr. Sayasone confirmed.
In the evening, Mr. Hai held a banquet in honor of Chairman Sayasone and his entourage.