Ho Chi Minh City is the first city to develop the initiatives to build charity and gratitude houses for families in serving the cause of the nation's revolution, the poor, and social welfare beneficiaries. The movement later spreads to the whole country.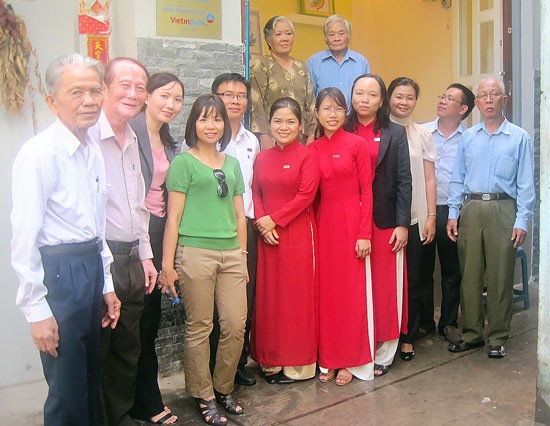 Sai Gon Giai Phong newspaper and benefactor builds a charity house for Mr. Tran Thanh Liem at 153/4/6 Ba Hom Street in District 6 in HCMC (PHoto: SGGP)
Deputy head of the municipal Department of Labor, Invalids and Social Affairs Huynh Thanh Khiet said that right after the South Liberation Day, the city authority has adopted policies to improve houses for those who had served the nation's revolution and martyrs' families or these whose houses badly destroyed by the war.

In 1982, thanks to good deed of staffs of House Construction Company, a part of the Department of Land Registry in HCMC, gratitude houses were built to bring happiness for families serving the nation's revolution.

The first gratitude house was given to wounded soldier couple Dao Van Cua and Nguyen Thi Tuyet in Phuoc Hoa Commune, Cu Chi District.
Since then, the district launched the movement to encourage organizations and individuals to join hand with the government to build more charity and gratitude houses for these special families.

In 1989, HCMC officially mobilize all classes of people and organizations to contribute to building houses for special people. Accordingly, just in a short time, the city has built additional more than 2,900 houses. In 1995, it is peak time of the movement of constructing charity houses for social welfare beneficiaries, families in serving the nation's revolution and the poor with total 7,678 houses being built.

From then, the city set target of the number of charity houses for each year to manifest the city's gratitude and affection to these special people.

The good deed spread in all corner of the country. For instance, after knowing that veteran Tran Van Hoang has no house, no personal papers and he earns his living hard. His old companions  contacted the Fatherland Fronts for asking for help. In 2012, a 100 meter square gratitude house for veteran Tran Van Hoang in Can Gio District was completely built as a love of his old companions and government organs to the veteran.

The city authority also alloted land for building houses for 600 wounded soldiers in big streets, helping them earn for life by opening shops. In addition, the local governments have financially support these families or give bicycles, motorbikes or wheelchairs. The Women's Association has played a role as matchmaker to link wounded soldiers with phinlanthropists to help the veteran stabilize their lives.

The city has built total 16,333 gratitude houses worth nearly VND183 billion (US$ 8,489,909) and other 1,915 charity houses worth VND31 billion (US$1,438,501) as well as improved 5,600 houses worth VND41 billion (US$ 1,902,552).

From the example of charity houses, gratitude houses, there are friendship houses; companion houses and solidarity houses appeared to help special people whose houses are in poor condition.