Secretary of HCMC's Party Committee Dinh La Thang led a delegation to the neighboring province of Binh Duong to learn experiences in social housing development for low income people on February 5.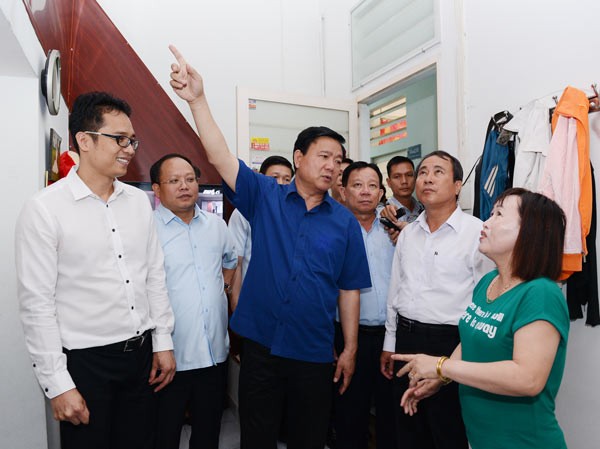 HCMC Party leader Dinh La Thang (blue shirt) visits a social housing project in Binh Duong province (Photo: SGGP)
Secretary of the provincial Party Committee Tran Van Nam received the delegation including standing deputy secretary of the HCMC Party Committee Tat Thanh Cang and deputy chairman of the city People's Committee Le Van Khoa.
Opening the working session, Mr. Dinh La Thang said that firstly HCMC wanted to aware of Binh Duong experiences in social housing building organization for low income people, including the model to apartments at the price of VND100 million ($4,426) each.
"Workers themselves create the city's development. Their accommodation is very important so the city's Party Committee and Government have paid much attention to this but met with a lot of difficulties," said Mr. Thang. HCMC wants to learn Binh Duong's experiences including successful and unsuccessful things.
Deputy chairman of Binh Duong province People's Committee Tran Thanh Liem said that the province had two million citizens comprising nearly 52 percent immigrants.
The province has implemented 85 social housing projects with the total floor area of 3.9 million square meters including 43 projects by Becamex Company over 3.1 million square meters. Apartment supply from these projects totals 70,000 with the total capital of VND12.1 trillion ($536 million).
So far 25 projects have been done and opened for dwellers with the total floor area of 491,000 square meters and the average price of VND4 million ($176) a square meter. In addition, about 200 businesses in industrial parks in the province have also built housing for workers with the total area of 270,000 square meters.
Total social housing area in the province has topped 761,000 square meters since early 2011. The province's experience is paying heed to planning and early preparing land fund for the social housing program, Mr. Liem stressed.

The province clearly stipulates industrial development projects must have land for workers' housing, ensure synchronous development between industrial parks and planning, housing development and other necessary social infrastructures for workers.
The province had reserved the housing area before the Housing Law 2015 regulated that. Especially, the province has assisted investors to do administrative procedures quickly and advantageously.
Talking about difficulties in carrying out the program, Mr. Liem said that workers and low income people in the province have still been unaffordable for social housing. Many like living in rental rooms and houses near their companies to reduce travel cost and time. Those in the demand of social houses have found it difficult to access loans.
At the meeting, HCMC leaders proposed the province to share more experiences including policies encouraging businesses to build social housing; asking if procedures on house trade for low income people could be more simple than commercial housing and if apartments of 25-30 square meters hinder living space of citizens or not.
Binh Duong expressed willingness to cooperate with HCMC to develop low cost housing. Workers in HCMC who live near the province can purchase social apartments in the province. After the meeting, the HCMC delegation surveyed social housing sites Hoa Loi and Dinh Hoa in Thu Dau Mot city.