Attending at the event were former PM Nguyen Tan Dung; Politburo member, Secretary of the HCMC Party Committee Nguyen Thien Nhan; former Secretary of HCMC Party Committee Le Thanh Hai, Standing Deputy Secretary of the HCMC Party Committee Tat Thanh Cang; Chairman of the municipal People's Committee Nguyen Thanh Phong, Chairwoman of the HCMC People's Council Nguyen Thi Quyet Tam, Deputy Secretary of the HCMC Party Committee Vo Thi Dung, Chairwoman of Vietnam Fatherland Front Committee in Ho Chi Minh City To Thi Bich Chau and a huge number of people in the city.

The delegation joined a processions and offered incenses and flowers to commemorate the Hung Kings.
On the same day, the city's leaders also offered incenses and flowers to the founder of Saigon-HCM City, high-ranking general Nguyen Huu Canh. Nguyen Huu Canh (1650-1700) was a famous army commander and an excellent administrator. He founded the city in 1698.
Expressing her proudness of the sacred origin of the nation and of a thousand-year-culture of the country, Chairwoman of the Fatherland Front Committee of HCMC To Thi Bich Chau stated: HCMC compatriots volunteer to maintain and cultivate patriotic tradition and cultural values of the nation, raising the awareness of self-reliance. The sons and daughters from the land of Saigon - Gia Dinh - HCMC continue the guideline of "with the whole country - for the whole country". They are striving to build and develop HCMC in the new period and the final result, the most important meaning are the living condition of the people, raising the intelligent content in the public social services to the resident.
On this occasion, the 10th youth camp themed"Pride of Children of Dragon, Grandchildren of Fairies" with the participation of more than 1,000 students also opened at the National Historical- Cultural Park.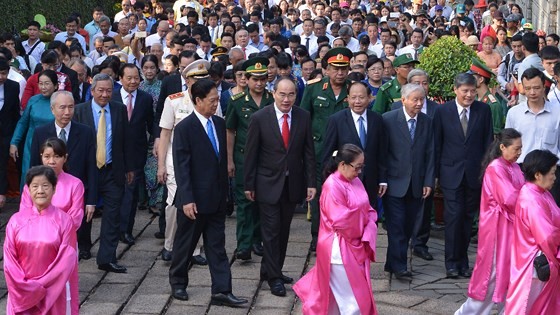 HCMC leaders attend a ceremony marking the death anniversary of the Hung Kings' on the 10th day of the 3rd lunar month (April 25).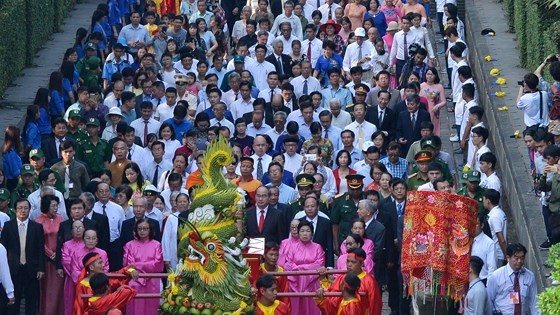 The ceremony attracts a large number of people.