The city aims to achieve a GDP growth of at least 10 percent and an export turnover expansion of 12.7 percent next year. These targets, among others, were announced at a December 28 conference to discuss the city's social and economic development plans for 2010.

Co-chairing the conference with the city People's Committee Chairman Le Hoang Quan, Chairwoman of the city People's Council Pham Phuong Thao called for a closer connection between the city's economic development and citizens' quality of life next year.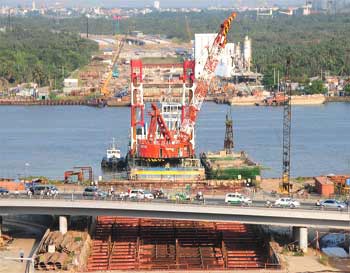 Work is carried out on the Thu Thiem tunnel which will connect downtown HCM City to the Thu Thiem New Urban Area. The city will boost investment in infrastructure projects, especially those concerned with traffic, as part of development plans for 2010. (Photo: SGGP)
To achieve this, the city should re-arrange its economic structure; step up investment in clean and hi-tech industries; strengthen human resource training; and seek effective measures to resolve issues of public concern. Such issues include poor traffic infrastructure, environmental pollution, and price fluctuations, she said.

Affected by the global economic recession, the city has experienced a slowdown in various sectors in 2009 including industrial production, export, tourism, stock exchange, and the property market, said director of the city's Planning and Investment Department Thai Van Re.

However, measures to ease impacts of the global economic slowdown have paid off, with the city's GDP growth estimated at 8 percent this year and its social security maintained, said Mr. Re.

Du Quang Nam, head of the city's Statistics Department, said he believed that HCMC's economy would be better next year. Budget revenue would likely reach VND144.2 trillion (US$7.81 billion), up 17.88 percent from 2009, and CPI would be constrained at a maximum of 7 percent, he said.

Chairman Quan said HCMC's total investment would account for about 42 percent of GDP next year, and the city would boost its investment in infrastructure, especially traffic works.

Among major works to be given priority next year are the Tan Son Nhat-Binh Loi-outer beltway, the Ben Thanh-Suoi Tien railway, the Ben Thanh-Tham Luong metro, and the Hanoi Highway expansion, he said.

Ms. Thao asked concerned agencies to take measures to step up the progress of infrastructure projects, warning that tardiness would lead to huge economic losses.
Next year will also see many traffic projects developed including the Sai Gon 2 Bridge, several overhead passes, and roads inside the Thu Thiem Urban Area, said Mr. Quan.
 
To fulfill the targets set for next year, the conference agreed to adopt several solutions including: improving the investment environment, stepping up industrial production and services, efficiently using capital for development investment, boosting economic recovery, implementing financial policies that help prevent inflation, strengthening management over natural resources and environmental protection, speeding up administration reforms, fighting corruption, and practicing thrift and fighting wastefulness.


HCMC's targets for 2010

- GDP growth: from 10 percent upward
- Export earnings: up 12.7 percent from 2009
- CPI: under 7 percent
- Total investment: VND172 trillion, accounting for 41.8 percent of GDP
- Budget spending: VND30.169 trillion
- Employment: 120,000 jobs created
- Unemployment: under 5.1 percent
- Poor households: under 7.2 percent
- Access to clean water: 96 percent for urban residents; 85 percent for suburban residents
- Users of public transport: 482 million
- Toxic solid waste treatment: 100 percent
- Proportion of industrials parks and export processing zones with wastewater treatment facilities: 100 percent