At a working session with a government mission led by Deputy Prime Minister Nguyen Thien Nhan yesterday afternoon, the Ho Chi Minh City Center of Forecasting Manpower Needs and Labor Market Information revealed that the city required 300,000 employees annually.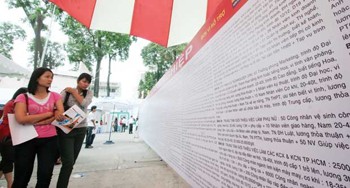 HCMC requires 300,000 workers each year (Photo: SGTT)
Tran Anh Tuan, the center director said that during 2011-2015, the city employment demand would rise for labor quantity, quality and technical expertise. During this phase, employment will increase on an average by 3-3.5 percent per annum creating about 280,000-300,000 jobs.
Of these, the garment, textile and shoe industries would have the highest demand, accounting to about 35 percent.
However, according to Mr. Tuan, the city's employment demand is often unbalanced and erratic.
Deputy Prime Minister Nguyen Thien Nhan praised the work of the center, founded two years ago. However, much had still to be done for the center's operations as works like the center's database was yet incomplete.
Mr. Nhan proposed that the city People's Committee must come to assist the center to improve its database. He also said that each ministry and department should keep up to date on the demands of its human resources.