Ho Chi Minh City should create purposeful flooded areas to reduce flooding and the issue should be solved as a part of regional and national climate change adaptation strategy not a plan for the city's administrative boundary, Mr. Ngo Trung Hai, director of the Rural and Urban Planning Institute of the Ministry of Construction has said.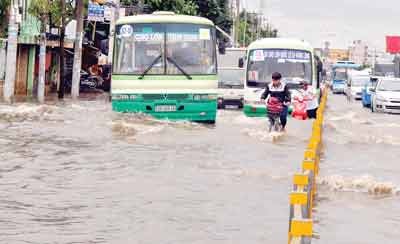 Many streets have been badly submerged under floodwaters after long-lasting heavy rains in HCMC recently (Photo: HCMC)
Many parts of HCMC have long experienced rampant flooding after heavy rains and high tides. Floodwater would not overflow the sewer system inner the city if there had space for it to run into.
Local authorities have implemented many measures to deal with the issue including dyke and reservoir construction.
According to Mr. Hai, dyke construction will require to huge capital number to control entire floodwaters running in and out from the city. 
The HCMC Steering Center for Urban Flood Control Program has conducted a sound but imperative solution to build 103 irrigation reservoirs over 875 hectares to tackle flooding.
The city can create flooded areas to contain floodwaters instead, he suggested.
Many nations have built semi-flooded parks and adjusted floodwater currents to flow into these parks, creating eye catching urban landscapes, improving residents' life quality and attracting tourists in the spirit of living together with not struggle flooding.
Creating 'water space' will force HCMC to do a difficult work, changing urban construction plan. But the plan adjustment is crucial because the city is approaching 'megacity' scale with population from 10 million people to higher.
Mr. Hai advised HCMC limit construction density and build flooded sites in Thu Thiem area. Suitable model might be 'islet urban areas' connected together via a bridge system.
In long term, measures to cope with flooding and climate change should not be implemented locally within the city's boundary. International experiences show that megacity issues must be solved in regional level.
Tackling flooding needs to have a regional coordination body to link HCMC up to neighboring provinces such as Ba Ria-Vung Tau, Dong Nai, Binh Duong and Long An.
HCMC should take the imitative in joining hands with its neighbors and proposing necessary mechanisms to work out their particular issues.
Hanoi has had the Capital Law. There is nothing unreasonable if HCMC continues proposing urban administration and regional cooperation models with specific policies and high self-control.
In fact, no provinces will accept to place solid waste treatment facilities or cemeteries in their localities and it is similar to flooded areas. Therefore, regional mechanisms are vital to settle these problems.
Common principle to reduce overloading in big cities is to develop large projects with sufficient urban services comprising universities, health clinics, industrial and trade centers in surrounding provinces and entrance gateways to the cities, said Mr. Hai.
It will just be able to implement with the regulation of a powerful enough 'bandmaster.'