The living environment of Ho Chi Minh City residents has faced with many challenges, especially environmental pollution, flooding, traffic jam, hospital overloading and population increase which could not be solved overnight but in a process requiring the city to have strategies and steps suitable with its specific conditions.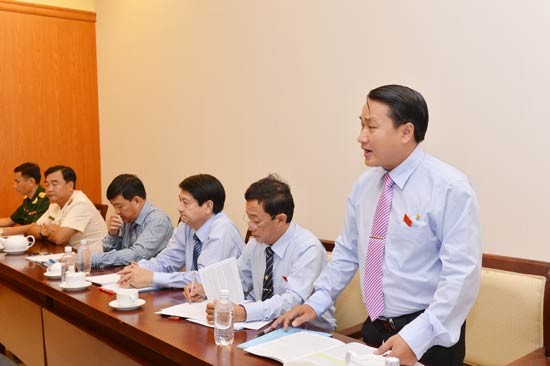 Delegates discuss at their groups at the 10th congress of the HCMC Party Committee (Photo: SGGP)
That was statement by Mr. Trang Viet Thanh from the HCMC Police Department on Thursday--the third day of the 10th HCMC Party Congress, when delegates were divided into 20 groups to discuss contents of the congress' draft documents. Most paid attention to the target of residents' life quality improvement.
According to Mr. Thanh, HCMC should have practical and appropriate measures for each target and drastically instruct implementation, preventing from putting forward too high requirements or being bursting to implement the measures, which will result in the condition of following achievements and neglecting quality and effectiveness.
Mr. Ngo Van Trien from the HCMC Ethnic Minority Committee said that good forecast was vital to build HCMC into the city with good life quality. This work has been done weakly.
Without accurate or relatively-accurate forecasts, defining of targets, norms and solutions for the most urgent issues such as health, education and traffic infrastructures will never keep pace with practice. These issues will always put pressure on the city making it unlikely to obtain targets.
He proposed to establish a migration department to manage and quickly solve all problems related to migrants.
Delegate Phan Anh Minh from the Police Department said that targets and solutions on economic, welfare, health and education were not realistic. They did not put the city's development context in interrelation with other cities in the Southeast Asia region especially to health and education.
HCMC should continue proposing the central Government to have specific mechanisms and policies for the city's development and investment so as to create breakthroughs in the next five year term.
The Government has applied same policies and mechanisms for all 63 provinces and cities including HCMC, which do not suit the city's development demand making it difficult to get targets in the draft documents of the congress. Therefore, HCMC should have its own development model, he affirmed.
Administrative procedures is still time-consuming and it is time for the city to boost reform in this field, according to Mr. Vo Van Thuong, deputy secretary of the HCMC Party Standing Committee.
Delegate Phan Thanh Binh from the HCMC National University proposed the city to intensify IT application in administrative reform, limiting direct contact between residents and civil servants.
Ms. Hang Thi Thu Nga from the People, Government and Party block of the city Party Committee said that clean water system has yet to reach 350,000 households. The city should strive to get its target to supply them with clean water by 2020.

Related articles:
City's Party Congress outlines targets for next 5-year period
10th HCMC Party Congress opens