Ho Chi Minh City needed to immediately attract 100 enthusiastic overseas Vietnamese experts to return home, creating a great stride in human resources to implement socioeconomic missions in 2017, said former director of HCMC National University Associate professor Dr. Nguyen Tan Phat on January 3.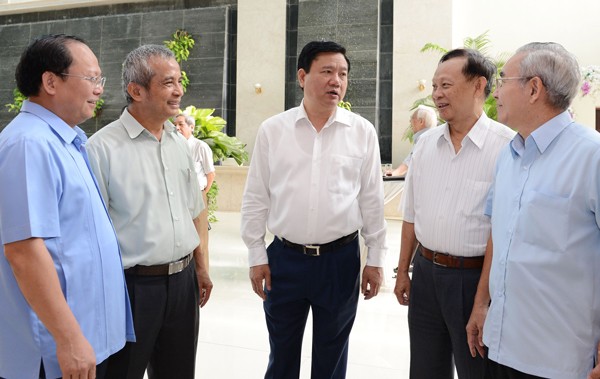 City Party Secretary Dinh La Thang (C) talks to retired senior officials at a meeting in HCMC on January 3 (Photo; SGGP)
He made the proposal at a meeting between city leaders in office and retired senior officials after chairman of the city People's Committee Nguyen Thanh Phong presented last year conditions and next year missions. 
Mr. Phat appreciated the city's project to develop into a smart city and policy to ask for a pilot specific mechanism to move up quickly, comprehensively and steadily. 
Labor heroine Tran Thi Duong said the city's direction of hi-tech development necessary. She proposed the municipal authority to continue paying heed to human resource development in this field, facilitate businesses' attraction of talents and appropriately invest in sustainable development. 
Former Minister of Health Tran Thi Trung Chien said the city should well prepare for the challenge from high mechanical population increase and take the initiative in dealing with all possible situations including healthcare and disease prevention. 
Expressing his gratitude to the retired officials for their proposals, secretary of the HCMC Party Committee Dinh La Thang affirmed that the city always listen to and acquire opinions from retirees and all classes of citizens. He hoped that they would continue joining hands in the city's development cause. 
According to Mr. Thang, one of the city's priorities this year will be to better and efficient operation of cadres and officials in government agencies and more investment in administrative reform, meeting the demand of citizens and businesses. 
He said that the city had comprehensively reviewed planning works to ensure that plans will precede others with long term visions. 
This year, HCMC will strive to perform its set targets to tackle traffic jam and environment pollution. In the first half, the city will complete a breakthrough mechanism and then submit it to the Politburo for approval to mobilize all resources for the city's development, he revealed. 
The municipal authority would strive to complete the poverty reduction program by 2020, he said.