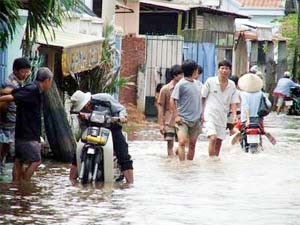 Ho Chi Minh citizens wave in a flooding street in District 8. (Photo:TK)
Wednesday's meeting on the pending flood issues in Ho Chi Minh City concluded that roughly VND320 billion (US$20 million) is necessary to restructure its drainage system and prevent flooding due to seasonally high tides and heavy rains.
The money will be spent on building a traditional drainage network including rivers, canals, and ditches based on the city's ecology, as well as optimizing use of the current natural drainage channels and applying modern, eco-friendly technology.
Speaking at the meeting, Mr. Le Thanh Hai, Secretary of the city Party committee, explained that "floods have, for years, created problems for city residents, affecting their daily lives as well as livelihoods during the rainy season."
He proposed that "to help the involved parties come up with feasible flood prevention plans, the city's task at hand should be to complete an extensive study of the causes and effects of the recent, serious floods."
In praising the projects, Mr. Hai told the local communications, construction and the public works departments they should all be working in association with the investors to implement the prevention plans presented by the many scientists at the meeting.
According to the secretary, these plans should focus on the city's hotbeds of flooding such as the Hoang Van Thu and Gia Dinh parks, the Ky Hoa Entertainment areas and the Tan Son Nhat international airport.