The Ho Chi Minh City Power Corporation has taken essential measures to ease power shortage in this dry season, the Corp's head said, adding that the city will not suffer such a shortage if administrative agencies and households can reduce their power use by six percent.

In a recent interview with SGGP, Le Van Phuoc, general director of the HCMC Power Corporation, said the firm has set up teams to streamline the power supply source to maintain a stable supply to customers, especially producers of goods for export.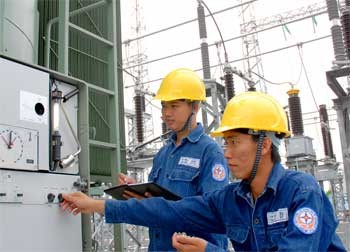 Electricians check a power panel in HCMC. The HCMC Power Corporation says an efficient, economical use of electricity is among the key solutions to ease power shortage. (Photo: SGGP)
The corporation has stepped up the repair, maintenance and upgrade of the power grid to improve its supply capacity and arranged those works in better ways to minimize their impacts on power users, Mr. Phuoc said.
The firm has also called on large companies to use their own diesel-run generators in case of power supply shortage.
However, he emphasized that an efficient, economical use of power is one of the key measures to ease power shortage.
With a total power consumption of 44.6 million kWh per day, the city now faces a daily shortage of about 1.1 million kWh. Meanwhile, the administrative sector and households account for about 40 percent, or 17.84 million kWh, of the total consumption. Therefore, if they can reduce their use by 6 percent, or 1.07 million kWh, the city will see no lack of electricity, he said.
Asked about recent power cuts, he explained they were made because of regular maintenance services or incidents, including cases in which power was automatically cut off as a result of an overload of the grid. "Such power cuts often lasted a short time," he added.
"We never randomly cut power supply to customers, and in case a cut is needed, it cannot be made without a prior notice," he asserted.
Cutting power must comply with the Electricity Law and must be informed in advance to customers via broadcast stations and newspapers, he said.
The corporation has yet to consider a power-cutting plan, since the National Power System Moderation Center has streamlined the power allocation on a daily basis to each power corporation to make the use of electricity more proper, balanced and efficient, he confirmed.