Several events were held around Ho Chi Minh City on World AIDS Day (December 1), calling attention to the plight of sufferers and raising awareness about the disease.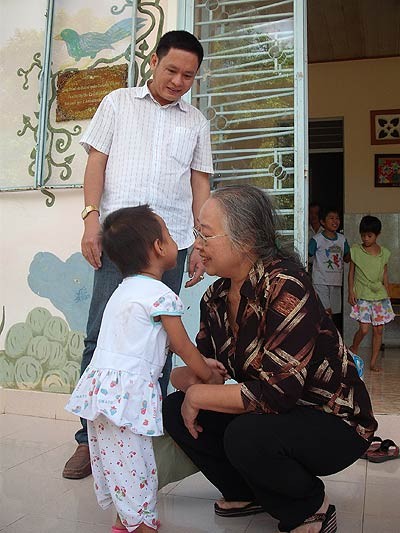 Representatives from the HCM City Anti-AIDS Committee paid a visit and offered gifts to HIV/AIDS-infected children at the Mai Hoa Center on December 1. (Photo: Lao Dong)
The HCM City Anti-AIDS Committee donated 540 gifts to HIV/AIDS patients and VND5 million each to city hospitals specializing in HIV/AIDS treatment.
The facilities receiving the donations included Pham Ngoc Thach, Nhan Ai, and the Hospital for Tropical Diseases, Mai Hoa and Tam Binh 2 centers.
On the same day, the HCM City Committee of HCM City Communist Youth Union held a seminar to raise awareness about HIV/AIDS prevention at the District 4 Children House.
Van Lam Ngoc from the Cu Chi District Health Center said he would survey parents, teachers and leaders of An Nhon Tay Commune People's Committee regarding the integration of HIV/AIDS-infected children into public schools.
Earlier this year, many parents pulled their children out of the city's An Nhon Dong Primary School after 25 HIV/AIDS-infected children from the Mai Hoa Center were enrolled there. The parents feared their children might also become infected and demanded the HIV/AIDS children be removed.
Also on December 1, the HCM City Committee of the HCM City Communist Youth Union held a meeting in response to World AIDS Day, attended by more than 1,000 students, union members, and young people.
As of September 2009, more than 20,086 cases of HIV/AIDS have been recorded in HCM City, of which 13,855 individuals have full-blown AIDS.
In the first nine months of the year, the city tested 93,283 pregnant women for the virus and provided milk for 2,203 HIV-infected children.