The Ho Chi Minh City Inland Waterway Port Authority, the investor, yesterday said that it has completed the upgrading of piers to help develop the city's river tourism.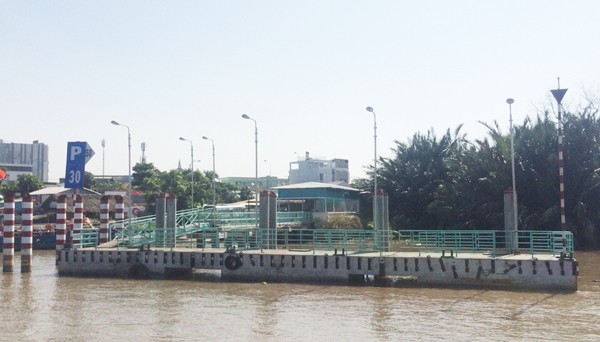 Wharf Phu Xuan in District Nha Be will be used for river tourism (Photo: SGGP)
11 wharves including Binh Dong in District 8, Lo Gom District 6, Hoi Son in District 9, one in Binh Hoa residential quarter in District Binh Thanh, Phu Xuan, Tac Xuat, Giong Chua in District Can Gio had been built since 2013 with the cost of VND20 billion (US$881,984).
Currently, 6 wharves are managed by the HCMC Inland Waterway Port Authority. The Port Authority proposed local authorities managing the five other wharves.
In order to develop river tourism, inter-departments of Architecture and Planning; Transport; Sports, Culture and Tourism proposed the city authority investing in five wharves. As per the proposal, the Department of Culture, Sports and Department of Tourism will issue guidelines of standards and criteria of each tourism destination to tourism agents and investors and upgrading piers and waiting stations.
As per planning, five river tours starting from the wharf to popular tourism destinations will be operated including from the Bach Dang Wharf in District 1-Ben Nghe Canal -Tau Hu Canal - Lo Gom Canal to a Wharf before Long Hoa Pagoda in District 8; Bach Dang Wharf - Sai Gon River - the Binh Quoi tourism area in District Binh Thanh; Bach Dang Wharf – Sai Gon River to Ben Duoc Memorial Temple in District Cu Chi; Bach Dang Wharf-Sai Gon River- Dong Nai River to a Wharf before Hoi Son Pagoda in District 9; Phu Xuan Wharf in Nha Be District- Nha Be River – Long Tau, Dua River- Dong Tranh River - Go Gia - Dong Dình - Dinh Ba to ecological area in District Can Gio.