Deputy Chairman of People's Committee in Ho Chi Minh City yesterday pressed a button to launch digital map to inform traffic congestions in the city.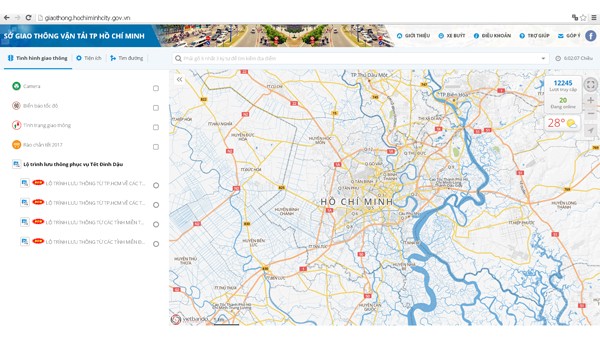 The digital map (Photo: SGGP)
The digital map will provide information of real traffic condition including the volume of traffic, travelling speed, gridlock, public toilets along streets, petrol stations, medical facilities and legal parking lots.

To be informed of the traffic in the city, people can visit www.giaothong.hochiminhcity.gov.vn on their computers or mobile phones or the 'TTGT Tp. Ho Chi Minh' app on Android smart phones.

Speed will be updated by colors. For instance, blue is normal traffic with speed of over 10km per hour; yellow means slightly difficult traffic with speed of 5-10km per hour; orange means congestion with speed of 5km per hour; and red is serious traffic jam with speed of under 5km an hour.

In addition, the digital map can find out street to escape congestions and receive information and complaints from residents and enterprises about infrastructure. The digital map will be accessible all round the clock to serve people in the city, according to the municipal Department of Transport , the digital map will be upgraded in order to serve people better.