Ho Chi Minh City Party Committee Secretary Le Thanh Hai and People's Council delegates met District 5 residents November 12 to hear their concerns.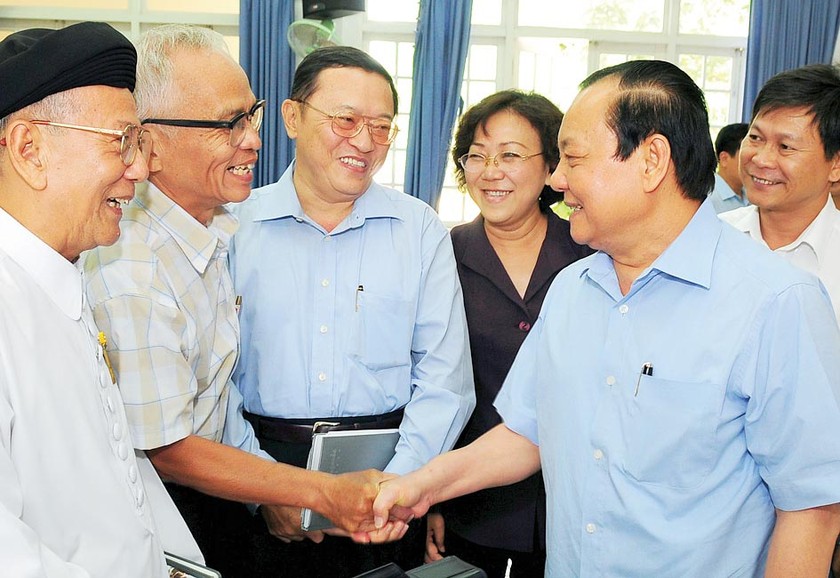 Ho Chi Minh City Party Committee Secretary Le Thanh Hai (R) meets District 5 residents November 12 (Photo: SGGP)
The voters raised a clutch of issues, including the delay in completing the East-West Highway, the unreasonable increase in water tariffs to compensate for water loss, and heavy traffic jam.
 
Some also complained that a local school, Hong Bang, had demanded large sums of money from students for a "voluntary fund."
 
On behalf of the District 5 administration, People's Committee chairman Le Van Khoa promised to address their concerns if it fell within the district's powers.
 
He ordered the principal of Hong Bang School to stop raising funds with immediate effect.
 
When some asked about the use of the money raised by selling lottery tickets, Party Chief Hai said it is used for social welfare projects.
 
He promised that all legitimate concerns would be thoroughly addressed by concerned agencies while issues to be resolved by the People's Council would be raised at its next session.
 
"Increasing water tariffs is appropriate, but it is unfair if it is done to compensate for water losses."
 
The tariffs have to be based on consumption per person rather than household, he admitted.