"Most of the obstacles that were de-stabilising the economy have been removed and people can expect a recovery," said Le Thanh Hai, Politburo member and head of the HCMC Party Committee, at a meeting convened by the local Party Committee on April 13.
"This proves that steps taken by the Government and the City to stabilise the economy have been effective," added the City Party Chief.
He cited CPI index increase had been controlled at 2.55 per cent, against 6.25 per cent in the same period last year. In March alone, CPI index increased only 0.15 per cent, the lowest since 2010. Exports boosted by 27 per cent compared to the same period last year.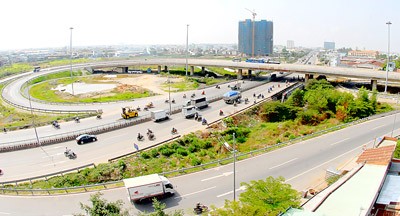 Newly built transport system in HCMC contributes to the growing of the economy ( Photo SGGP )
At the meeting Mr. Hai requested authorities at all levels to avoid any action that would cause difficulties for the local people and businesses.
"Red tape still remains, a contingent of cadre still avoid responsibilities, especially in the field of construction, real estate, issuing of permits, etc.," he remarked.
Mr. Hai wanted the city agencies and departments under the People's Committee to be held completely responsible and make a concerted effort to speed up administrative reforms.
The meeting also discussed targets for the next decade, including average annual growth of 12 per cent, half as much as national GDP growth rate.
Ho Chi Minh City is targeting to have an average income of US$8,500 per person by 2020.
The City Party Committee is seeking to create mechanisms and policies that will foster development and administrative reforms, said Mr. Hai.
At the two-day meeting chaired by Mr. Hai, that ended yesterday, the committee called on the Politburo to issue a resolution enabling the Government to effect the changes.
The city leadership recommended to the Government to grant more authority to HCMC in areas of administration, finance, land management, and human-resource development.
Mr. Hai also ordered all levels of authorities to help businesses to find markets for their products, and take care of labourers, constantly raising their income and improving working conditions. HCMC must exploit all economic and high-tech potential to boost the strength created by the co-operation between the city and localities in the key Southern Economic Zone.
He requested the HCMC People's committee to study, assess, and draw up a master plan for the restructuring of the city's economy and focus on the development of the zone and its major sectors and products.
Besides, the Party secretary promised to create a mechanism to mobilise capital from various sources and under different modes to carry out six "breakthrough" programmes in the city to support small and medium enterprises.