Le Thanh Hai, Politburo member and Secretary of the Ho Chi Minh City Party Committee, made a pre-Tet visit to meet with the Party committee and the local people of Tien Giang and Vinh Long in the Mekong Delta on January 30.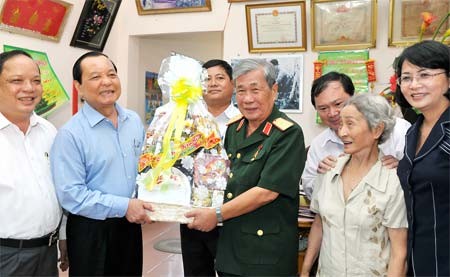 Le Thanh Hai giving Tet gift  to Pham Phi Hung in Vinh Long Province (Photo: SGGP)
During his visit to Tien Giang, Mr. Hai praised the province for its great achievements in 2010 and asked the provincial authorities to make plans to reach targets set by the provincial Party Congress.
 
He said the province needed to invest more in its industries, develop its service sector and continue to develop specialized cultivation while also improving the quality of its agricultural products.
 
While visiting Vinh Long, he observed that the province had made significant changes in all fields.
 
He thought that the province needed to concentrate on training human resources to meet the growing demand for socio-economic development of the province.
 
He said the province needed to boost the application of technological science to their products in order to increase product value and create brand names for the province's specialties.
 
On the occasion he wished a happy Tet season to Trinh Van Lau, former secretary of the Vinh Long Province Party Committee, Vietnamese Heroic Mother Le Thi Nhung and Hero of the People's Armed Forces, Pham Phi Hung.