Secretary of the HCMC Party Committee Dinh La Thang led a city party mission to visit farmers in Can Gio district and discuss ways out of poverty and getting rich on December 25.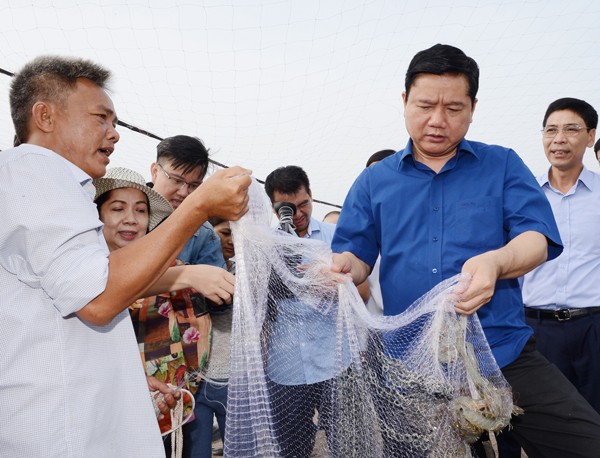 Secretary Dinh La Thang (blue short sleeve shirt) visits a shrimp farm in Can Gio district, HCMC on December 25 (Photo: SGGP)
Chairman of the district People's Committee Le Minh Dung reported that Can Gio has 2,673 seafood farming households with the total area of 8,000 hectares of shrimps, oysters and fish.
Besides, there are 727 salt making households over 1,671 hectares. In 2016, the district produced 140,000 tons of salt, up 5 percent over 2015. However a kilogram was priced as low as VND300-500 while the cost of production averaged VND613 a kilogram.
The district has determined to reduce salt making area to 600 hectares by 2020 and transfer the remaining of 1,000 hectares into seafood farming and non-agricultural jobs.
Answering the secretary's question whether farmers should continue the unprofitable salt making, farmer Tran Minh Hoa said that they should still maintain the job because seafood farming had been risky. When diseases broke out and damaged fish and shrimp crops, farmers had no more choice than salt fields.
Farmers are in the dire need of capital to covert from salt into seafood and technical assistances to cope with diseases, said Mr.Hoa, one of 15 good farmers, who is invited to the Cultural Center in Ly Nhon commune to directly talk to city leaders.
Local farmers have highly benefited by shrimp farming with the profit of VND140 million ($6,166) a crop. Despite this, the job has required large investment capital and been risky with diseases threatening to make breeders moneyless.
Pointing out the high ratio of 52 percent households in and near the poverty line and affirming inefficient salt making, secretary Dinh La Thang asked Can Gio district to change its economic structure, saying it was a necessary work and the responsibility of the city and the district.
Instead of focusing on salt making, the district should change economic structure to promote its advantage of locating in the country's largest city by developing goods production for 10 million citizens and tourism.
Among the 15 good farmers, 76 year old Nguyen Van Banh proposed the city to handle wastewater which has run down from the center of the city to Can Gio district and killed local fish and shrimp.
According to standing deputy secretary of the city Party Committee Tat Thanh Cang, HCMC has been able to treat 13 percent of two million cubic meters of household wastewater discharged a day. He required the city People's Committee to quickly settle the issue of untreated wastewater to prevent it from damaging Can Gio shrimp and fish breeders.
Farmer Tran Minh Hoa proposed to separate irrigation water supply and drainage systems to prevent diseases from spreading from one to other farms.
Farmer Nguyen Hoang Bao said sometimes shrimp farming was unprofitable in Binh Khanh commune but advantageous in Ly Nhon commune and vice versa. So he suggested the district to draw a map showing the salinity at different areas in Can Gio district during a certain period of time. This will help local citizens choose suitable crop to farm.
Especially, the district should have a shrimp diseases testing machine because farmers now have to transport their shrimp to the center area of the city for testing and wait 3-5 days to get results. The long process has slowed medicine delivery from medical workers causing heavy damage to farmers, he said.
Agreeing with the proposal by Mr. Bao, secretary Dinh La Thang requested agencies and Can Gio to build a hydrographic and saline database so that farmers can have scientific production plans.
Deputy secretary Tat Thanh Cang said that the coordination between the district and authorized agencies had been neither tight nor synchronous to assist farmers.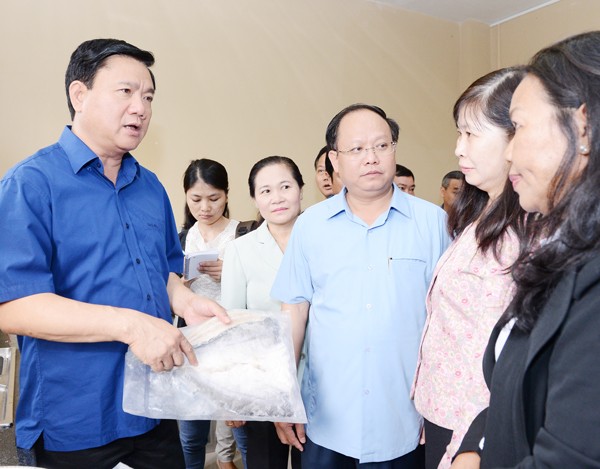 Mr. Thang (L) learns about dua fish at a cooperative in Can Gio district on December 15 (Photo: SGGP)
The city has given the district authority to approve projects with the investment capital of less than VND5 billion however this policy has yet to reach farmer, said Mr. Cang.

Secretary Dinh La Thang said that the city's government must take charge of agricultural development, electricity supply, water drainage and consumption market. It should not let farmers to both produce and seek market and build brand names themselves.
According to him, dua fish (Pangasius kunyit) is a well-known specialty of Can Gio but the product has not had a brand name or been shelved in large supermarkets. He said it is a waste.
It was unacceptable that the city Department of Industry and Trade has no knowledge of the market share of dua fish and blames the district for not making a report, Mr. Thang said. He asked authorized agencies not to stay at their offices and wait for reports about things that citizens need.
He required agencies to take action to reduce the poverty ratio of 52 percent in Can Gio, help farmers build brand names and take dua fish as well as other specialties in the district to the modern distribution system of the city.
Can Gio district should diversify their farming products and coordinate with agencies to develop tourism, he said.