Secretary of the HCMC Party Committee Dinh La Thang this morning prompted Tan Binh district and relevant agencies to solve procedure problems to build parking lots for Tan Son Nhat International Airport and rebuild old apartment blocks.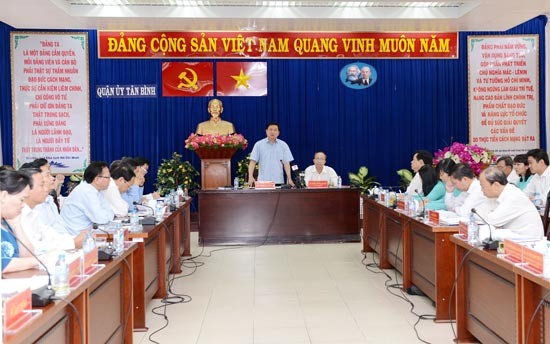 Secretary of the HCMC Party Committee Dinh La Thang states at a meeting with leaders of Tan Binh district on December 12 (Photo: SGGP)
Mr. Thang was leading a delegation from the Party Committee working with Tan Binh district on how it has implemented the district Party Committee's resolution in the term of 2015-2020 covering socioeconomic matters, culture, national defense, public security and party development.
He queried Tan Binh district's leaders about years-long problems in building a parking lot at Tan Son Nhat airport. Thousands of taxi cabs and other vehicles have been forced to park in surrounding streets causing traffic jam because the shortage of parking lots at the airport, he said.
Chairman of Tan Binh district People's Committee Chau Van La said that there are many empty land pierces surrounding the airport but they concern many central agencies and ministries. So the district has been unable to speed up the parking lot project.
Deputy director of the Department of Transport Tran Quang Lam said that the city is considering two investors to build parking lots at Gia Dinh Park where is adjacent to the airport.
Disagreeing with Mr. Lam's statement that the department is quickly implementing the projects, Secretary Dinh La Thang said that the projects have lengthened for a few months while thousands of investors are willing to attend. If procedures had been solved quickly, they should have been able to build a smart parking lot within four months.
He required the Transport Department to work with relevant agencies to conduct surveys and find locations to immediately build parking lots and no longer wait or talking around.
Being required by Mr. Thang, chairman Chau Van La reported to him five large problems waiting for the city People's Committee to solve.
Of these, the largest difficulty is from assessment and approval of compensation measures for projects to rebuild old apartment blocks.
The secretary required director of the Department of Construction Tran Trong Tuan to report the problem. According to Mr. Tuan, the department has suggested the city People's Committee to authorize Tan Binh district to assess compensation levels for these projects.
Mr. Thang continued querying director of the Department of Natural Resources and Environment Nguyen Toan Thang, who said that the city's People's Committee has approved compensation levels for housing land but yet for apicultural land. So the department is still waiting for the city's decision.
Secretary Dinh La Thang concluded that the slow implementation of parking lot projects and old apartment blocks' rebuilding is because authorized agencies have not well coordinated together besides a shortage of a mechanism to facilitate the process.
He prompted the agencies to better work together and take drastic actions right now unless the city will be unable to obtain its targets including rebuilding half of 474 downgraded apartment blocks by 2020. HCMC should continue giving districts more administrative power to solve problems in their areas including traffic jam, flooding and environmental hygiene.
At the meeting, Mr. Thang asked leaders of the Steering Center for Flood Control Program about anti-flooding works but only a deputy head of the center's drainage division was present. Other leaders were busy to assess yearend emulation activities.
Mr. Thang proposed the city Party Committee Office to issue a document strictly criticizing the absent because their unserious working manner choosing the week long scheduled event to host their yearend meeting.