Politburo member, Ho Chi Minh City Party Committee Secretary Le Thanh Hai had an informal meeting with Vietnamese nationals in San Francisco City of the U.S. at 8 a.m. July 13 (Hanoi time).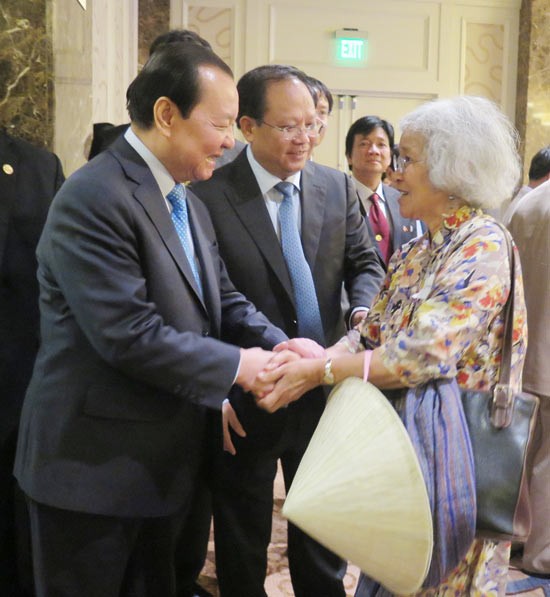 Politburo member, Secretary Le Thanh Hai (L) meets with oversea Vietnamese in San Francisco City (Photo: SGGP)
That is among activities of the secretary's week long visit to the U.S. on the occasion of the 20th anniversary of HCMC-San Francisco friendship relations.
At the meeting, Mr. Hai announced good results from General Secretary Nguyen Phu Trong's visit to the U.S., which fell on 20 years of VN-U.S diplomatic relation normalization.
HCMC's visit to San Francisco will contribute to deepening VN-U.S. relations in all fields, according to Mr. Hai.
He expressed happiness to see Vietnamese nationals in the city and the U.S. more and more develop, well integrate in local society and sustain Vietnamese cultural characters.
About 2.2 million oversea Vietnamese are settling in the U.S. accounting for half of the total number living abroad. Of these, 40 percent is in California.
The oversea Vietnamese in San Francisco also expressed gladness to the successful visit of General Secretary Nguyen Phu Trong and deep consideration for the country's situation and the East Sea issue.
They hoped to contribute in developing their native land and become a bridge in the VN-U.S. comprehensive partnership.
Some proposed HCMC to promote its administrative reform to further attract investment from Vietnamese nationals abroad.
In response, Mr. Hai desired that the oversea Vietnamese in the U.S. will continue making contributions to Vietnam's development in general and HCMC in particular.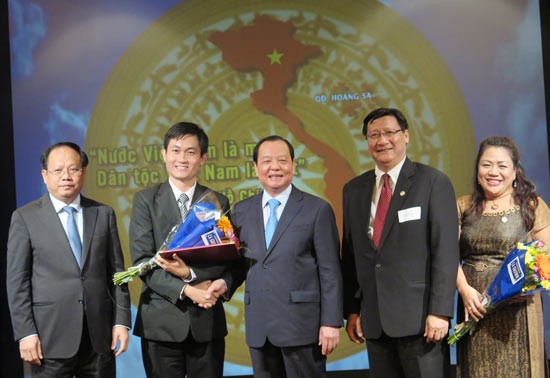 Mr. Le Thanh Hai (C) presents at the license granting ceremony to Digital Seeds Company (Photo: SGGP)
He affirmed the consistent policy of the Party, State and Government in the protection cause of the country's sea and island sovereignty. They have been determined to protect every inch of soil and sea of Vietnam.
HCMC has organized trips to visit soldiers and residents in islands every year, Mr. Hai said.
He invited oversea Vietnamese to attend in these visits to Truong Sa (Spratly) Archipelago so that they could have a true view over Vietnam's constant determination in frontier and island protection.
On this occasion, HCMC leaders granted investment certificate to Digital Seeds, a Silicon Valley headquartered hi-tech firm of Vietnamese nationals.
Accompanying Secretary Le Thanh Hai in the visit, from July 11-18, are deputy chairman of the HCMC People's Committee Tat Thanh Cang, head of HCMC National Assembly Delegation Huynh Thanh Lap, and head of the HCMC Party Committee's Department of Propaganda and Education Than Thi Thu.