Ho Chi Minh City pediatrics hospitals are taking in an increasing number of children with acute diarrhea and meningitis following the recent hot, dry weather to add to the continuing measles and rubella outbreaks.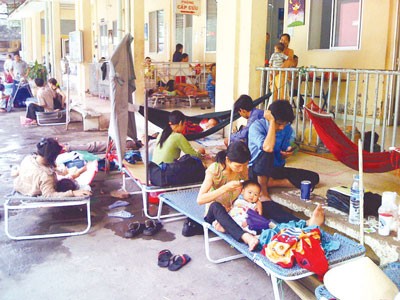 Child patients in the lobby of Pediatrics Hospital No.2 where they are being treated for acute diarrhea seen here with relatives (Photo: SGGP)
The city Pediatrics Hospital No.2 is flooded with anxious parents who bring their children with acute diarrhea. The Gastrointestinal Department wards are chock-a-block with infants and their relatives, two or three to a bed and even in the lobbies.
Le Thi Hong of Binh Thanh District bemoaned the swarm of patients, saying she and her nine-month-old baby had to stay outside for two days, waiting for an empty bed.
Dr. Pham Thi Ngoc Tuyet, head of the department, said the problem has persisted for over three weeks now.
The division has been admitting over 100 sick children a day with high fever, loose bowels, vomiting. Some of them had to be admitted to the intensive care unit and put on breathing machines.
Doctors fear for some of them because they are too young.
Dr. Tuyet said contamination of food and drinks is causing the diarrhea.
The city-based Pediatrics Hospital No.1 and Tropical Hospital too report a similar situation with the majority of patients coming from nearby provinces.
The Pediatrics Hospital No.2 is treating nine meningitis patients, almost a third higher than normal. The disease is potentially fatal due to the inflammation's proximity to the brain and spinal cord, especially among the very young.
Two people are now in  the intensive care unit and another has tuberculosis in the meninges -- the three membranes covering the brain and spinal cord -- and has been transferred to Pham Ngoc Thach hospital.
Meningitis is caused when viruses, bacteria, or other microorganisms cause inflammation of the protective membranes.
It can cause serious long-term problems like deafness, epilepsy, hydrocephalus and cognitive deficits, especially if not treated quickly, Dr. Le Thi Khanh Van, head of the Neurology Department, said.
The head of the Contagious Diseases Department at the Pediatrics Hospital No.1, Dr. Truong Huu Khanh, said that babies are vulnerable during hot weather, especially in April and May. His department is currently treating more than 30 patients.
Children usually suffer from the disease but sometimes nonspecific symptoms may be present among children under the age of 12 month. In infants up to 6 months of age, bulging of the fontanelle (the soft spot on top of a baby's head) may be present.
Patients receiving treatment within 24 or 48 hours would recover soon, Dr. Khanh said.