On July 11, the Ho Chi Minh City People's Council started its seventh session. In three days, the conference will listen to the reports of the People's Council on socio-economic situation of the first six months, resolution for socio-economic development of the following six months of 2006 and solutions to voters' petitions, including opinions from hot lines at the previous session.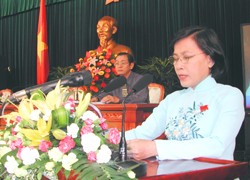 Chairwoman of Ho Chi Minh City People's Council Pham Phuong Thao

Notably, the HCMC People's Committee will submit a report to the People's Council on compensation, assistance and resettlement for inhabitants involved in the government's land revocation.
According to the committee, the construction of resettlements has been been slow, due to an enduring lack of apartments and land for relocated inhabitants.
During this session, Chairwoman of the HCMC People's Council Pham Phuong Thao will recommend a self-nominee for the post of HCMC People's Committee chief.
The council will give opinions on the committee's reports on the adjustment of land zoning until 2010, orientation until 2020 and five-year land-use plan (2006-2010). Policies for post-rehabilitation drug addicts at the city-based treatment centers and the division and separation of crowded wards of District 12, Go Vap District will also be discussed.
Until July 10, over 60 questions from deputies were sent to the council. Most questions aim at some fields under the management of the Departments of Planning-Architecture, Traffic-Public Affairs, Natural Resources-Environment, Construction and Water Supply Corporation.
The public can give their opinions by calling 8.274.160 – 8.248.595, sending email to gopyhdndtp@tphcm.gov.vn or via website http://www.hochiminhcity.gov.vn/.