Ho Chi Minh City has implemented many planning programs with tens of billions of U.S. dollar and yielded infrastructures in the end while a huge profit from land price difference has run into other pockets.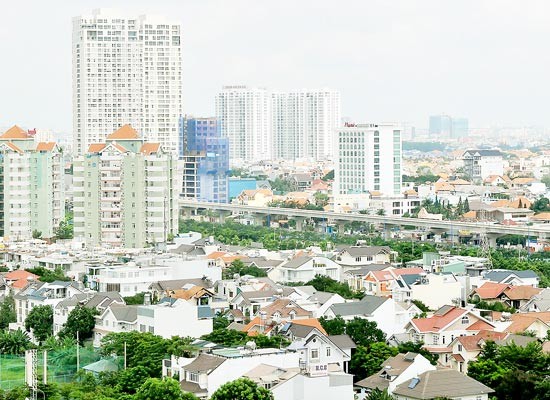 Buildings along Ben Thanh-Suoi Tien metro route (Photo: SGGP)
During the last ten years, HCMC has really changed its aspect with a slew of new roads opening to traffic such as Pham Van Dong and Vo Van Kiet-Mai Chi Tho. Beside traffic efficiency, HCMC has seen insignificant economic benefit from these projects.
An unnamed official of the Department of Planning and Investment said that the city has just issued drawing and architecture regulations along these routes, which have proved effective in local administration level where the roads run through. They have a basis to grant building permissions.
The largest target is a plan to exploit the land fund alongside the roads for urban planning and bring the city a revenue source has yet to be implemented.
While authorized agencies have been slow in exploiting added value from these areas, real estate businesses have not missed the opportunity. The first metro route is expected to be built in over two years but has created a huge advantage for real estate developers.
Although the property market has continued meeting with difficulties with high apartment inventory level, projects near the metro route have been in much demand.
The investor of Masteri project has solved out over 3,000 apartments along the first metro line. Hung Thinh Real Estate Company has quickly solved out 648 apartments of Lavita project near this route. In addition, many mega projects dependant on metro line projects with tens of thousands of apartments have been developed inner the city.
Over a decade earlier, exploitation of resources from planning had used to be discussed.
At that time, chairman of a study on HCMC urbanization Du Phuoc Tan pointed out a paradox that the state budget spent on technical infrastructures but the benefit from these works had not reasonably divided among the state, investors and related households.
For instance, when An Lac-Binh Tri Dong road project started, agricultural land price was only VND300,000-800,000 per square meter. The price has rocketed to VND2.1-6 million and then to VND25 million when the area was fully occupied.
Similarly, land price when the government announced a plan to broaden Hoang Hoa Tham-Van Kiep road was VND9 million square meters, which accelerated to VND15-19 million after the project was built.
Obviously, the most beneficiary has been investors and speculators.
The city once well exploited planning land funds when building Nguyen Huu Tho street to link Nguyen Van Linh street up to Hiep Phuoc industrial park in Nha Be district.
Instead of expanding the road to only 60 meters, the city increased the site clearance area to 210 meters in width along the 7.5 kilometer street. The spare area after building the road was 68.7 hectares.
The city then auctioned 48.7 hectares and earned VND466 billion (US$20.78 million). The rest 20 hectares were allocated to a foreign investor in return for infrastructures in other areas.
The money from the auction was not only been enough for road construction, resettlement but also contributing to the city budget.
At present, a lot of buildings have been constructed along Mai Chi Tho street to contribute in removing citizens from the center of HCMC to outskirts.
Regrettably, this lesson has not been replicated in urban planning in the city.
Consequences from waiting-in-front projects
Dr. Huynh The Du, director of the Fulbright Economics Teaching Program, said that the implementation of plans must have a process. Of these, decision to carry out projects must be carefully considered to ensure the benefit of investors and the community.
To do that authorized agencies must map out plans to implement projects after planning. That is principle but the process has been as simple as choosing some profitable works to build first in many places.
According to plan, the existing center area of HCMC will be expanded to 930 hectares including Districts 1 and 3 and parts of Binh Thanh and District 4, where many buildings will be built.
However, that is the picture in the next 10 years when the first and second metro lines will be built and come into operation. The center area will link up to other areas with flyovers and bus rapid transit systems.
The fully-done technical infrastructure is far-away but many buildings have risen to wait in front for benefits from that. This has caused unavoidable consequences including traffic jam, overloaded drainage system and flooding.
Similarly, many buildings near Tan Son Nhat International Airport have sprouted regardless of traffic overloading in this area.
Most of the above works have been built in accordance with plans. However they are plans of the 2020-2025 period when most operations of Tan Son Nhat airport will be removed to Long Thanh International Airport in the neighboring province of Dong Nai.
Answering Sai Gon Giai Phong reporters about the situation, leader of an agency said that investors had not interested in technical infrastructures which are require large capital and long time. Meantime, real estate projects will help them reclaim capital faster.
Not permitting them to invest in real estate projects, HCMC would lose development opportunities and an income source for the city budget. Land revenue especially in the center area is huge but it is unclear that the source is enough to make up traffic jam and flooding.
Planning to adjust
For the last several years, HCMC has spent titanic funds on hiring foreign consultant firms to build plans, from which to establish modern urban areas with good living quality.
In fact, the city has owned a number of good quality plans. However, many others have been adjusted not long after being approved. Thu Thiem new urban area plan has been changed to increase building floor area by 40 percent.
Many areas under planning in the western bank of Saigon River, parts of the extended center area of HCMC, has also much increased building floor area.
The plan adjustment has been attributed to investor attraction. However this planning way has proved inefficient and costly. In fact, a plan built by foreign consultant firms usually cost hundreds of thousands to millions of U.S. dollar.

Related article:
City planning way change needed for sustainable development of HCMC