Ho Chi Minh City plans to promote the development of renewable energy resources in its 'Green Energy Programme' by 2015.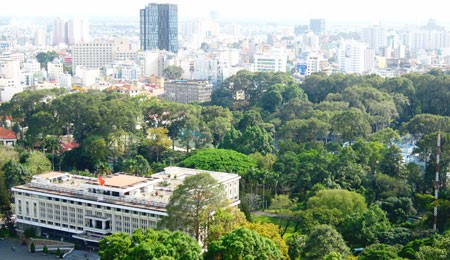 A view of HCMC (Photo: SGGP)
According to the city's electricity development plan approved by the Ministry of Industry and Trade, HCMC has a high potential for developing renewable energy, especially solar power.
As seen, the average sun time is around 100-300 hours a month, creating advantageous conditions for the city to develop solar power successfully.
Despite the high potential, only few investors have shown an interest in renewable energy projects due to low economic returns, and the city budget is also not enough to independently develop this energy resource.
HCMC now has only about 3MW of power output from renewable energy from the Go Cat waste dumping site in Binh Tan District and the solar panels installed in Thanh An Commune of Can Gio.
The city plans to build two other plants at Dong Thanh and Phuoc Hiep 1 garbage dumps in Cu Chi District by 2015.
As per the 'Green Energy Programme', HCMC will strive to increase the consumption of renewable energy to more than 1 per cent of the total electricity demand, accounting for about 48MW, by 2015.
At present, several households, restaurants and hotels are equipped with geysers. However, only 3,400 of them use solar powered geysers, which save 11 million kWh of electricity a year. As a result, the city has set a target to increase this number by 3 per cent each year.
From 2007-2011, the city had implemented several measures to save over 1,000 million kWh of power, accounting for 1.2 per cent of commercial electricity output. The city now targets hiking this number to 2 per cent by 2015.
HCMC authorities have instructed relevant departments to strengthen propaganda and call on residents to restrict usage of unnecessary electric devices during peak hours. They should have a policy to assist low income families to install solar power geysers.