Ho Chi Minh City has plans to implement a new project to restore and preserve the old heritage architectural buildings located within the city.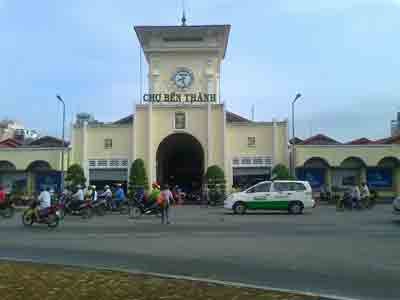 Ben Thanh market, one of antique architectural relics to be preserved ( Photo U.Phuong)
According to Nguyen Trong Hoa, Head of the
Institute of Research
and Development of HCMC, while old heritage buildings are by law
preservation sites, HCMC still lacks proper regulations to protect those that are classified as culturally more valuable.
HCMC is a political, economic, social and cultural centre in southern Vietnam, established in late 17th century. Over the past 300 years, it has become a splendid urban area with many cultural features, particularly its classic architecture which has given the city a timeless quality.
As in other big cities in Vietnam, Ho Chi Minh City has a mixture of architectural styles, from the modern to the traditional.
As compared to Hanoi, there are not as many old buildings here. Some people compare Ho Chi Minh City to Bangkok which has many high rise modern buildings.
HCMC's heritage architecture merges well with modern high-rise buildings. The harmony between the old and the new is what gives the city its unique style.
The saying "Land is gold" suits Ho Chi Minh City, where the tiniest space is being used for doing business. It's also the reason why there are so many narrow tall buildings in the city.
Besides also, there are hundreds of cute houses and beautiful villas around the city, some of which are built in the French style and some others are very simple. Some houses are almost falling down after the government built new roads.
Thus, it is important to quickly set regulations to preserve the old architectural landmarks in the city before they are destroyed from lack of care, Hoa stated.
"Now a group of Spanish experts will help the city to research and find ways to preserve some architectural monuments in district 5 and 6", Hoa said.
Nguyen Huu Tin, Vice Chairman of HCMC People's Committee said that the Committee has agreed to let the Institute of Research and Development in coordination with the Institute of Planning and Engineering of HCMC, outline a set of rules and regulations to preserve the city's old heritage sites.
This task is expected to be complete before 2013.