Street robberies are on the increase in Ho Chi Minh City, causing much anguish among residents and also threatening the lives of innocent people.
Lieutenant Colonel Nguyen Le Hung, head of the crime police team under the Police Criminal Investigation Department, spoke with a SGGP reporter about the methods and tricks that criminals deploy to rob ordinary people.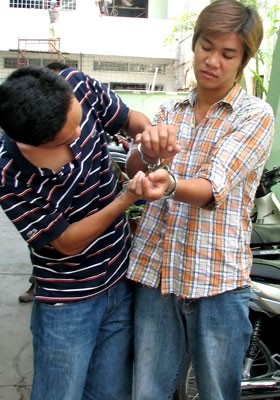 The anti-criminal police arrest a robber. (Photo: Doan Hiep)
Street robberies have increased dramatically in Ho Chi Minh City, with many striking cases occurring in the past several days, worrying locals and prompting police to launch a campaign to crack down on such crimes.
The latest such case occurred on November 26, when 28-year-old Nguyen Thi Ngoc Thuy, a resident of Thanh My Loi Commune in District 2 was driving across the Phu My Bridge.
Two men on a motorbike pulled up next to her and one of them suddenly slashed her right elbow with a knife. Thuy shouted "Robber! Robber!" as the men hacked at her two more times, almost chopping off the lower part of her arm.
The thieves who carried out the crime were arrested later.
Lieutenant Colonel Nguyen Le Hung said only strict sentencing was not enough to combat the robbery spree, but other solutions, such as creating more jobs, reducing unemployment, and fighting drug sellers and users must be also pursued by authorities.
"Last month, the number of criminal cases, especially robberies and thefts, increased slightly from October. But the most worrying thing is the ferociousness and daredevilry of recent robberies," Hung said.
He cited one case in which a 28-year-old robber stabbed a 22-year-old victim many times to death and then injured a police captain after robbing a laptop from the victim in Tan Binh District on September 17.
"Residents are being haunted by such terrible robbery cases," Hung said.
The City police encourage residents to actively take part in combating robberies, Hung said
The City police have built a plan to mobilize forces to crack down on crimes, he added.
Accordingly, police will strengthen patrols and set traps, tighten control in residential quarters, and strengthen inspections at hotels, rented houses and recreational facilities.
Ho Chi Minh City authorities will take measures to combat street robberies, which have recently become more violent.
In order to encourage everybody to participate in fighting crime, the city police will call on tourism companies to contribute to a fund that will be used to reward the VND5 million to anyone who successfully seizes a robber, the police officer said.
Hung said he hoped to initiate a movement to combat robberies by applying a practical form of encouragement—such as a bonus to help build up a force that supports the police in fighting crime."
The city police will submit to the People's Committee a plan to mobilize capital for the Fund for Crime Prevention and Control, he said.
He said that usually robbers often ride on fast motorcycles-- running around the routes to find any object and bringing assets of high value. They wait for favorable locations (as in remote deserted areas, spider web roads areas that facilitate the escape), the robber driver will speed up the motorcycle close to the victim to grab the property and run away.
Of the 150 criminals arrested recently, 49 percent was jobless; the rest had unstable jobs; and 46 percent of them were involved in drug abuse, Hung said.
It is more dangerous than 50 percent of crimes related to drug abusers.
Lieutenant Colonel Vu Nhu Ha, deputy chief of the Secretariat of HCMC Police, said many criminals often use drugs, especially synthetic drug tablets, before they commit crimes.
Therefore, more action should be taken to detect and punish individuals or gangs that illegally transport, store or sell drugs, Ha said.
Strengthening management of residential areas is also important in detecting and preventing criminals, said Hung
Information on fighting and preventing crime should be provided to every household, business, and agency in every locality, so that everybody can actively contribute to fighting crime, Hung said.
He stressed that re-education of prisoners should be improved to help prevent ex-prisoners from relapsing into crime, including robberies, after they are released.