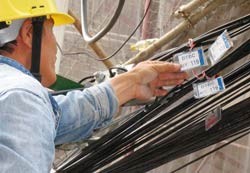 An electrician checks telecom cables in Truong Dinh Street on May 4. (Photo: SGGP)

Unauthorized telecom cables wires strung up on electric poles on Ho Chi Minh City's Truong Dinh, Ba Huyen Thanh Quang, Vo Thi Sau and Nguyen Thong Streets will be removed and seized, the Saigon Power Company has warned.
The company, a unit of the city's sole power supplier, the HCMC Power Company, began a 16-day campaign to spruce up its electric poles on May 4.
"There are 30 different kinds of telecom cables on electric poles but only a third are contracted with [us]," Nguyen Van Hao, deputy technical director of the HCMC Power Company, said.
The utility has called on telecom companies to cooperate with it to identify and tag their cables by May 6.