Ho Chi Minh City has prepared all conditions for deep and wide international integration in 2016 when many free trade agreements (FTAs) will take effect, said chairman of the city People's Committee Nguyen Thanh Phong.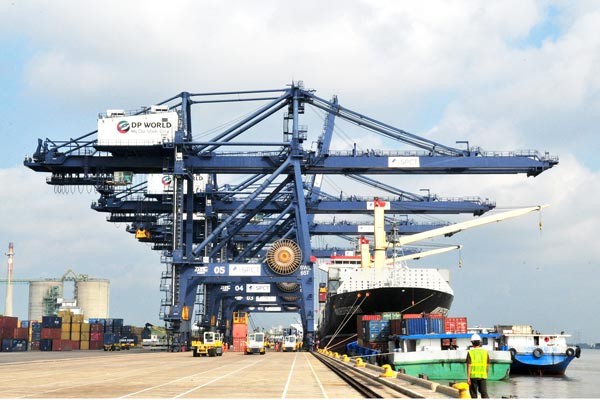 A corner of a seaport in HCMC. Export and import goods have been more and more diversified in the city (Photo: SGGP)
On December 10 last year, HCMC issued Instruction no. 22 to implement the agreements among business community. Major measures focus on popularizing Vietnam's FTA commitments, tax cut routine, adjustment and supplementation of regulations within the city's jurisdiction, assisting businesses in development of human resource and innovation of machines and technologies.
In addition, the city has carried out market access programs to businesses, developed the connectivity between enterprises and municipal authorities to get regular feedbacks on policies and solve difficulties.
In the upcoming time, local authorities will further administrative reform and cooperation among authorized agencies to quickly provide firms with necessary information to build their best investment projects.
Determining businesses' backbone role in the city's economy, HCMC will make more efforts to create advantageous and fair environment for all economic sectors to develop, Mr. Phong affirmed.
Besides the above solutions, the city will continue demand stimulation campaigns, trade and investment promotion activities and the campaign 'Vietnamese give priority to consumption of Vietnamese goods,' price subsidization program and measures against counterfeits and smuggling.
For the last several years, HCMC has mobilized domestic and foreign resources to build important works to develop the city's technical infrastructure synchronously, including building and upgrading seaports, radical and belt roads, intersections in entrance gateways, flyovers and Saigon River Tunnel. They have contributed to improving investment environment.
However, traffic jam, flooding and environment pollution have still been complicated problems whose repair requires more efforts.
The city has built seven breakthrough programs to implement the 10th congress' resolution of the Party Committee covering urban planning, anti-flooding and traffic jam solving. It will start construction of many projects in the upcoming time for these purposes.
Besides opportunities, international integration will bring HCMC many challenges especially high quality human resource. Therefore, the city has launched a breakthrough program since the 9th congress of the Party Committee to improve the quality of human resource.
At present, policies are performed to attract good experts domestically and abroad, better vocational training especially in fields that workers will be allowed to travel freely among ASEAN nations such as dentistry, nursing, engineering, accounting, architecture, consultancy and tourism.
Authorized agencies have assisted enterprises to retrain their staff to meet requirements from integration.