The Department of Education and Training in Ho Chi Minh City has sent its document to educational facilities in the city asking for a good preparation for the new academic year 2015-2016.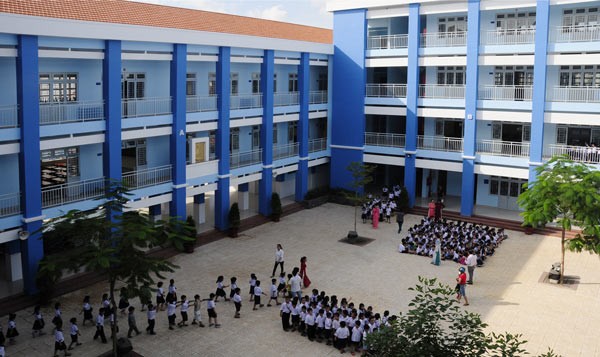 More schools in HCMC are built for the new academic year (Photo: SGGP)
As per the document, the Department ordered schools to implement active measures to have timely solution to difficulties and complete the repairing facility as well as thorough cleaning to welcome the new academic year.

The Department instructed schools to organize the new school year ceremony formally and solemnly including traditional games and cultural performance.
Schools must organize to sing the national anthem at the opening ceremony.

In addition, schools must hold a ceremony formally to welcome children who become the first grader in the new academic year to offer good impression to students who transferred from pre-schools to primary schools.

In its document, the Department also issued guidelines to primary schools including forbidding collecting enrollment fees in excess of standard levels set by the government.

Moreover, schools are not allowed to compel parents to purchase uniform and the cost of uniform must be equal to the market's price.

Schools must not change design of uniform; if changes, schools leaders must inform to parents and must get parents' agreement.
Upon collection of enrollment fee, schools must publicize in bulletin board and list details of fees for books, documents, studying items, meal fee, and insurance.