Le Hoang Quan, chairman of the People's Committee of Ho Chi Minh City, presided over a meeting on June 9 in which he discussed measures to support troubled enterprises and boost domestic market economy.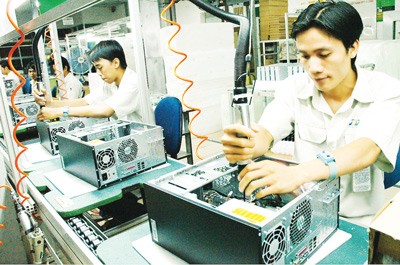 Workers assemble computers at the FPT Elead Factory (Photo:SGGP)
With businesses still reeling under the present economic crisis, chairman Quan said that the city will focus on lending support to companies during this difficult period. The city will help businesses resolve issues related to capital crunch, simplify administrative procedures and ask banks to provide loans of up to VND5 trillion for businesses in HCMC.
In June the city has targeted VND30 trillion for support of ailing businesses. However, companies can only avail of the loan on good and effective business plans and innovative solutions, said chairman Quan.
He also said that local authorities should understand business operations of companies in their areas and support them in resolving related difficulties faced by them.
During the last two months, only 570 companies were able to access loans upto VND7 trillion from 140,000 companies and 260,000 private businesses in the city.
Tran Minh Tuan, Deputy Governor of State Bank of Vietnam, said that even though many companies still face capital shortage for investment in machinery, equipment and technology, which are now quite outdated, they have difficulty in accessing loans.
To be able to disburse a loan amount of VND30 trillion in June, Tuan said that business associations in the city must report specific difficulties faced by members and the amount of capital required by them.