The Ho Chi Minh City Department of Industry and Trade on July 15 worked with a delegation from the northern province of Hai Duong, discussing measures to promote the consumption of  litch fruits in the city.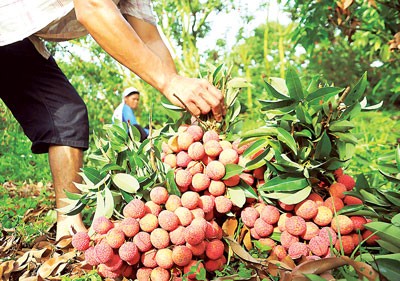 Thieu litchi fruits in Luc Ngan, Bac Giang (Photo: SGGP)
According to the department, HCMC will mobilize businesses, wholesale markets together with other distribution channels to facilitate consumption of the fruits.
At the meeting, supermarkets affirmed priority to consume seasonal farm produce including Thieu litchi for famers at profitable prices, for instance they will display the fruit at easy- to- see places.
The Ministry of Industry and Trade said that Thieu litchi output was expected to hit over 200,000 tons this year with 60 percent of these for local market and 40 percent for exports.
Hai Duong Province is well-known with litchi fruits named Thieu litchis that are planted in Thanh Ha, Chi Linh districts. This variety has also been planted in other areas in the north such as Dong Trieu in Quang Ninh and Luc Ngan in Bac Giang.