The Urban Traffic Works Investment Management Board has taken prompt actions to start work on the first bus rapid transit (BRT) project in Ho Chi Minh City by the end of this year or early next year, according to the board's director Luong Minh Phuc.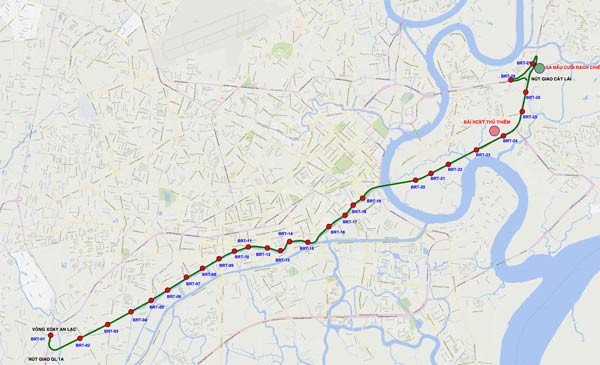 The first BRT route along Vo Van Kiet-Mai Chi Tho streets is expected to come into operation in HCMC by 2019 (Photo: SGGP)
District 2 has stepped up site clearance and compensation to build the project's terminal and operation center. Because the work will mainly be built in Vo Van Kiet and Mai Chi Tho streets, site clearance will not much affect its progress.
The board, on behalf of the HCMC People's Committee, will be the project's investor. Construction is expected to complete in two years and the BRT route will come into operation by 2019, Mr. Phuc added.
According to design, the route's lanes will be built at the existing dividers of the two streets and entirely separated with other lanes to prevent traffic jam from slowing its schedule. Low floor buses will facilitate travel of the elderly, children and the disable. The buses will use compressed natural gas.
The 23 kilometer route will start at An Lac intersection in Binh Tan district and end at Cat Lai intersection in District 2 with 28 stations built every 800-1,000 meters. The stations will have chairs for commuters where they can get free wifi. Passengers will reach the BRT route via a system of flyovers connecting from pavements to the stations.
With the assistance from the Swiss Government, HCMC People's Committee and the board are considering construction of a park and other amusement centers near the BRT stations. The most considered place nears District 5 Cultural Center called Dai The Gioi by local citizens.
Besides the main route, the board has studied a branch stretching from Ben Thanh market to Ba Son shipyard and Tan Cang seaport to meet travel demand of nearly 10,000 households from property development projects in the area.
The route is planned to extend up to new Mien Tay Coach Station which will be removed from District 6 to the crossroads of Nguyen Van Linh street and National Highway 1A in Binh Chanh district to facilitate travel to the Mekong Delta.
After the first metro route, HCMC will build the second in Pham Van Dong street. By developing metro and BRT systems, the city expects to increase the number of passengers using public transport means to over 10 percent by 2020.