The railways announced November 12 that it would sell train tickets for the Lunar New Year (Tet) holiday to groups and through telephone and SMS, and not online.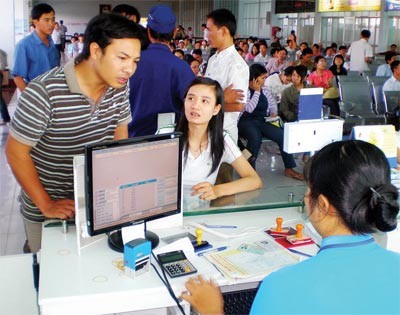 People buy tickets at Saigon railway station in Ho Chi Minh City's District 3. With the annual Tet scramble round the corner, the railways is announcing plans for selling tickets (Photo: SGGP)
Dinh Van Sang, deputy general director of the Saigon Railways Passenger Transport Company, said the company's website is not ready yet.
However, this year people sending SMSs to book tickets would get their seat numbers unlike last year when they only got a number for queuing up at the station to buy tickets, he said.
Buyers can then make payments through ATMs or at Vietinbank branches, he said.
From December 1 to 10 tickets will be issued to people booking via telephone and SMS, and from December 11 to 20 to those making group bookings, he said.
He expected 103,000 tickets to be sold on trains going to Vinh and Hanoi, half through group bookings and another 25 percent through agencies and via telephone.
Nguyen Thi Thanh Phuong, head of Saigon station, said the station would give priority to groups booking at least 20 tickets.
On trains going from Hue to Hanoi between February 1 and 24 next year – Tet falls on February14 this time – passengers' full names and identity numbers will be printed on tickets in an effort to reduce black marketing.
To make it more convenient to buy tickets, two ticket agencies will be set up in Can Tho and Binh Duong Province in addition to the 11 existing ones in Ho Chi Minh City and Dong Nai and Vung Tau provinces.
The fare from Saigon to Hanoi ranges from a high of VND1.06 million to VND647,000 now but is expected to be 3-10 percent lower than last year during Tet.