Ho Chi Minh City yesterday inaugurated a construction of fortifying embankments to cope with high-tide triggered flooding and decorating streets to mark the 40th anniversary of the southern region's liberation and the country's reunification--April 30.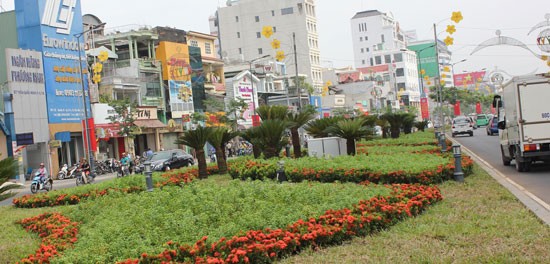 A corner of Truong Son-Tran Quoc Hoan Streets towards Tan Son Nhat International Airport (Photo: SGGP)
Six embankment constructions have been built at a total capital of VND380 billion (US$17.6 million) in Thu Duc which is one of the worst flooded districts in the city.
Previously, the city completed upgrading 12 other embankments sections in District 12 on April 22.
Old and weak dykes had been rebuilt and fortified into stable roads, which not only hold flood tides back but also facilitate vehicular traffic in the districts.
Nguyen Van Tung from Linh Dong Ward, Thu Duc said that before the embankment was built, the area was badly submerged when high tides or heavy rains occurred.
Tran Quang Lam from Thanh Loc Ward, District 12, said that the new embankment constructions had improved their lives. They have no longer worried that floodwaters would devastate their business.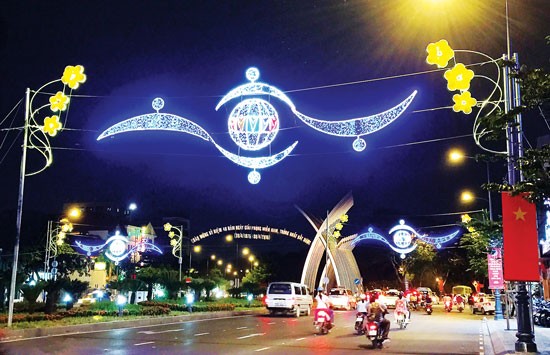 A view of Truong Son Street on April 27 (Photo: SGGP)
Many families invested billions of dong in farming ornamental plants and fish and raising snakes, crocodiles, tortoises for ecotourism but they were swept away by tides, he told.
 
On April 27, the city opened for traffic three road improvement projects leading to Tan Son Nhat International Airports in Tan Binh District.
They comprise Tran Quoc Hoan, Truong Son and Phan Thuc Duyen Streets stretching over 1.8 kilometers. These projects cost a total of VND115 billion (US$5.33 million).
Besides, areas in the city's entrance gates and main roads in districts have been decorated with flowers, lights and flags to mark the Reunification Day. Ward and commune level authorities have also planted more trees and flowers in small parks in residential areas.