The Ho Chi Minh City real estate market is now showing positive signs of recovery, after a long period of freeze in transactions, according to several research companies specializing in the real estate segment.
Property prices at present have decreased to 50 percent since it peaked, but according to market analysts, 50 percent in real estate was a reasonable level when considering affordability and the real need of the buyers.
In the first six months, sales of apartments were modest, but since July the market has witnessed a lot of apartments, mainly in the medium segment, being offered at bargain prices.
For instance, Nam Long Investment Joint Stock Company last week introduced to homebuyers of average income a 2,000 apartment project 'Ehome 3' in Binh Tan District. Price fluctuated from VND615 million (US$30,000) per apartment, with favorable interest rates of 12 percent per year by Vietcombank.
Investment and Building Company No. 8 also recently announced a package sale of flats in the 'green building' project (Cao oc Xanh) on Nam Hoa Road, Phuoc Long A Ward, District 9, Ho Chi Minh City, at around VND1 billion per flat. Customers who buy apartments have to pay 15 percent and the remaining 85 percent will be paid in loans at interest rate of 12 percent per year during the first six months.
Duc Khai Company stock has also launched the sale of 200 apartments of The Era Project that is only 15 minutes from the luxury Phu My Hung area, for VND1 billion for a 100 sq.m apartment.
Customers will be supported with loans upto 7 percent of the value of the apartments with flexible payment modes, and interest rates of 12 percent for six months.
Not only are property investors offering dozen of projects for sale at promotional prizes, but some are offering a free car, while others are announcing a reduction of 50 percent on actual price.
A director of a construction company in District 3 when cordially exchanging ideas with reporters said that at present real estate prices cannot be reduced any further.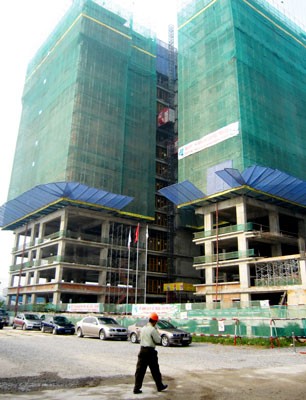 A real estate project being developed in District 7, HCMC (Photo: SGGP)
However, these recommendations depend on who really wants to buy real estate at this time. Two factors must be seen, the legality of the project, the capacity of investors and in particular they should watch the construction quality of the project.
"Market survey showed that customers should trust investors who have long-term vision, not those in a hurry to join the competition on prices", the director said.
According to the analysis of a finance investment company, people can choose to stabilize their savings by VN dong and accept the devaluation risk.
Depositing US dollars at a low interest rate of 2 percent per year is just to ensure capital preservation purposes.
Buying real estate property will help customers to avoid losing money. An apartment costs from VND1.7 billion (about $ 80,000), with this amount of money, if you put in the bank, with interest rates of 2 percent a year, you can get $1,600 per year.
But with an US$80,000 apartment, you can rent at US$350 per month (about US$ 4,000 per year). Thus, the money collected from rental apartments surpass far more than putting in the bank to benefit the interest, concluded this director, who is also a real estate broker.