Ho Chi Minh City received a total of US$6.8 million in grants from foreign non-governmental organizations, companies and individuals in the first half of the year.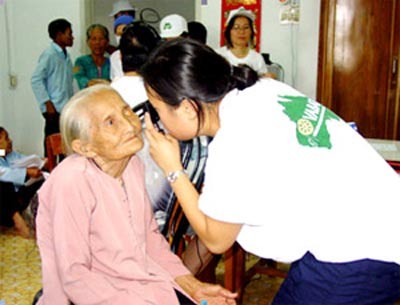 A NGO's medical worker examines eyes for disadvantaged elderly under a charity program ( Photo: Ngoc Anh)
Of the funding, 75 percent went to the Health Department and the city's HIV/AIDS prevention committee of the city.
The achievements in social welfare, education, health, poverty reduction and job generation that the city has attained so far were attributable to the contributions of NGOs and international organizations, said Nguyen Thi My Tien, General Secretary of the Ho Chi Minh City Union of Friendship Organizations at a gathering on July 8.
During the meeting with representatives of NGOs currently operating in the city, Tien promised that the union will work with relevant agencies to streamline the current procedures concerning NGOs' operations.
There are 141 NGOs licensed to operate in Ho Chi Minh City, of which 47 are from Europe, 36 from the Asia Pacific region and 58 from the US and Canada. Half of the NGOs work in the health, education and social fields.
The city is calling for aid totaling US$713,000 for more than 20 projects, including legal advice and consultancy for people living with HIV and affected by HIV/AIDS; scholarships, teaching tools and equipment for poor students, students who are hearing-impaired or mentally retarded; protection and support for migrant children, street children and ethnic minority children.