The Ho Chi Minh City Center for Forecasting Manpower Needs and Labor Market Information forecasts that the city will require more than 25,000 skilled workers by May this year.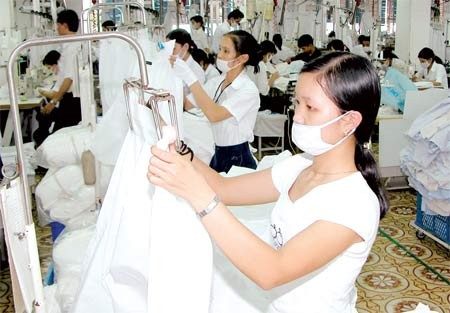 Workers make shirts at Viet Tien Garment Corporation in Ho Chi Minh City (Photo: SGGP)
Fifty percent of this number comprises of university or college graduates and fifteen percent as trained laborers, while the remainder to be manual laborers.
Tran Anh Tuan, deputy head of the municipal Centre for Forecasting Manpower Needs and Labor Market Information said that many firms wished to recruit people as economic managers, accountants and auditors. There was also requirement in the field of information technology, banking and finance, health care and food processing. Tuan added that in April, many firms focused on recruiting a skilled and highly educated work force.
The centre also forecast that the recruitment demand in the city during the month of May would increase by 20% as compared to April.
The recruitment demand for manual laborers has decreased, as compared to earlier months. The demand for manual laborers in April 2010 was 77% and in April 2011, it was 35.4%.
There is a shortage of labor force in some sectors such as garments, leather, mechanics and electronics.
The recruitment demand in April increased by 23.9% compared to March. The demand was mainly in garments and leather of 29.31%, in sales of 21.38%, in marketing of 11.78%, in services 5.26% and in education 4.15%.
Labor supply during April increased by 4.6% compared to March.
Ho Chi Minh City has presently 4.7 million people in the working age group. More than 250,000 laborers are working in the export processing zones and industrial parks in the city.