Scientists have raised concerns about the health of Ho Chi Minh City residents using groundwater tainted by nitrates and coliform and ecoli bacteria.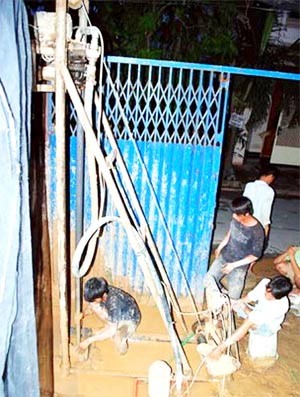 People dig a well in a house in Ho Chi Minh City (Photo: SGGP)
According to the city Department of Natural Resources and Environment, a third of the city's population uses groundwater for household and commercial use.
 
By the beginning of this year, there were 200,000 wells, most of them dug illegally, from which one million cubic meters were being drawn daily. The city's water utility draws just a fifth of this volume daily from its groundwater sources.
 
Two years ago the city People's Committee issued a decision restricting and then forbidding exploitation of groundwater in some areas. But this has failed to stop the illegally digging of wells.
 
An official of the department said so many city residents have to use groundwater because supplies of tap-water have yet to cover all areas in the city.
 
The city's water utility said it can supply only 1.2 million cubic meters of fresh water a day while the minimum demand from the city's eight million residents is 1.7 million cubic meters.
 
Groundwater is seriously polluted in Districts 9, 10, 11, 12, Thu Duc, Hoc Mon, Cu Chi, Nha Be, Go Vap, Tan Binh, Binh Tan, Tan Phu, and Binh Chanh.